The rape cases prevailing in the madrasas of Pakistan are not something new but a deep-rooted menace that has been destroying the lives of innocent children. Even the number of cases that have emerged in the recent past represents barely the tip of the iceberg. A video surfaced on the internet in which JUI-F leader Mufti Aziz-Ur-Rehman can be seen abusing an adult.
A recent case of the pervasive practice came to the limelight wherein a cleric sexually abused a student. However, this time it is not a minor boy but a grownup. It is not uncommon to find cases of boys being raped in religious institutions of Pakistan. One such harrowing incidence occurred in Lahore. Mufti Aziz-Ur-Rehman, a Jamiat Ulema-e-Islam JUI-F leader and administrator of a Lahore-based seminary, was seen sexually abusing an adult.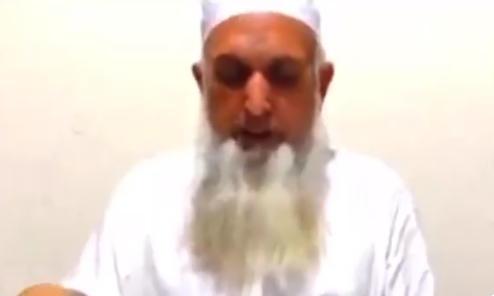 A video surfaced on social media showing Mufti Rehman sexually abusing a boy. The victim himself filmed the happening in order to expose the man. We will not be sharing the video due to its explicit nature.
According to a notification dated June 8, 2021, the seminary terminated Mufti Rehman on June 3, 2021. However, no First Information Report (FIR) was registered against the 70-year-old.
In a video statement lately, Mufti Rehman claimed that the boy drugged him. He did so to make him unconscious and commit the heinous act. In addition to this, he claimed the boy recorded the video as part of a conspiracy to oust him from seminary by the victim at the behest of teachers Asadullah Farooq and Syed Rasool, the latter an Afghan who "has fraudulently obtained Pakistani CNIC."
Video statement of the accused
Meanwhile, the victim claimed that he was getting death threats after he exposed the JUI-F leader. The young man also added that he might end his life as not one helped him or gave him justice. The officials must help this boy before anything bad happens to him.
Meanwhile, Pakistanis on social media demand strict action against Mufti Rehman as expelling him is not enough. They think that the JUI-F leader is lying and must not get a free hand in the case.
Pakistanis demand an example to be made out of him
"Why is the punishment for sexual abuse of students in madrasas only expulsion from the madrasa? Why such beasts are not handed over to the police? Tomorrow he will be committing the same crime with students in another madrasa," wrote Mubashir Zaidi.
Surging child abuse cases in madrasas prove that there are loopholes in the legal framework and its application and in our society as a whole. Previously, a Molvi was abusing minor boys in a madrasa in Karachi.
What do you think of this story? Let us know in the comments section below.