Oh god, Mrs. Khan doesn't seem to know what she wants to say, now that she has been rattled by the severe criticism she received on a large-scale after she spewed some disturbing misogynistic remarks on women's obligations to her husband and blamed women to be the sole reason for divorces these days.
She was recently invited on another show and when asked about her previous outrageous and out-dated comments bashing married women that included them running their mouths, arguing and not making rotis for their husbands; Mrs. Khan said that she was abused and cursed at, that has left her feeling sad.
What follows is another long cringe-worthy interview full of explanations by Mrs. Khan, where she tries to justify her previous statements!
She starts off explaining that at this age she must have something on her mind that made her act out that way and if she has said something strictly then girls should be quiet. She continued on saying that their mothers-in-law use to say plenty of harsh things to them but they would never talk back to them or retaliate in any manner.

The female host brings the subject to more important matters and inquires about her statements like 'tawa garam hona chahiye' and 'garam garam roti paesh honi chahiye' that doesn't work in the modern-day marriages where a lot of the wives are working women. To this, she proudly defends saying that she too was a working lady and still managed to give garam roti to her husband.
The hypocritical turn comes when she clearly denies she meant that women should keep their mouths shut and bear everything that comes their way, but in fact, should speak softly and with respect. "I was talking about women who are too outspoken" saying that women have to compromise more in order to keep their marriage going.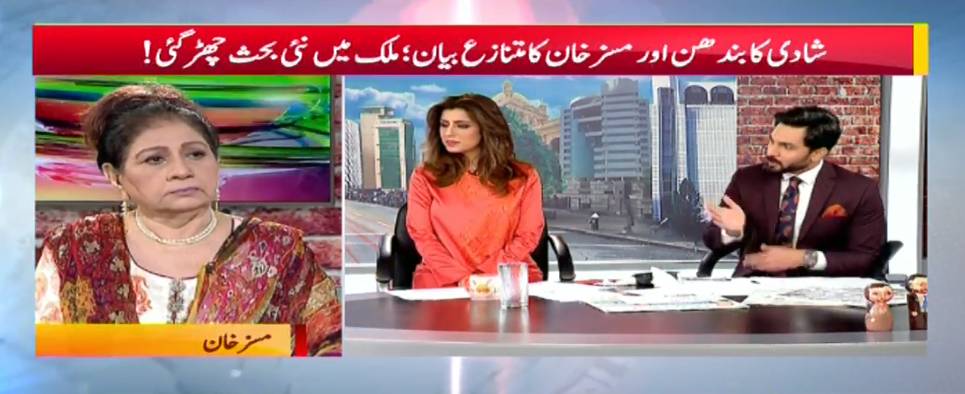 Mrs. Khan continues on with her rant that still carries heavy sexist undertones and talks about how women should talk properly to their husband and seek their 'ijaazat' before going out. To this the hosts instantly cuts her off and calls her out on this. Mrs. khan instantly changes her stance on being caught again and refutes so fast, changing her entire statement.
Watch the entire interview below!
She proudly gives an example of her own daughter who married into a large family and easily manages to cook for 40 people daily. Mrs. Khan concludes with a message that doesn't quite fit into the whole equation, saying that all she wants is for young married women to be more invested in their husbands than on their phones.
Have anything to add to this story? Comment below!