LAHORE: The Muttahida Qaumi Movement (MQM) Rabita Committee has announced a day of mourning tomorrow (Wednesday) against violent clashes between the Punjab police and Pakistan Awami Tehreek (PAT) supporters in Lahore.
Eight people were killed, while 80 others were injured, including 17 police personnel, in the clash which erupted outside their leader Dr Tahirul Qadri's house in Model Town Colony.
MQM leader Farooq Sattar, while speaking to the media in Lahore on Tuesday, stated the actions of the police were "undemocratic and barbaric."
Condemning the clash, Sattar also said that this incident was not a good message from the Punjab government.
---
Also Read: 8 dead, 85 injured in clash between Qadri supporters and Police
---
MQM Deputy Convener Khalid Maqbool Siddiqi expressing similar sentiments to that of Sattar, stated that the protest of the PAT workers was peaceful.
The MQM representative also said that MQM, Pakistan Tehreek-e-Insaf (PTI) and Pakistan Muslim League – Quaid (PML-Q) boycotted the Punjab Assembly in protest against the clash.
PTI's stance
PTI's Punjab president Ejaz Chaudhry, while speaking to Express News, demanded an apology from Prime Minister Nawaz Sharif and Punjab Chief Minister Shahbaz Sharif.
Chaudhry also said that the Punjab government was responsible for this incident, adding that there was no justification for such an incident to take place.
PML-Q's stance
Following the incident, PML-Q Punjab president Chaudhry Pervaiz Elahi spoke adversely against the Punjab government at a press conference in Lahore.
He remarked that the days of the provincial government were numbered.
Condemning the incident, he said that the PAT workers were shot at ruthlessly.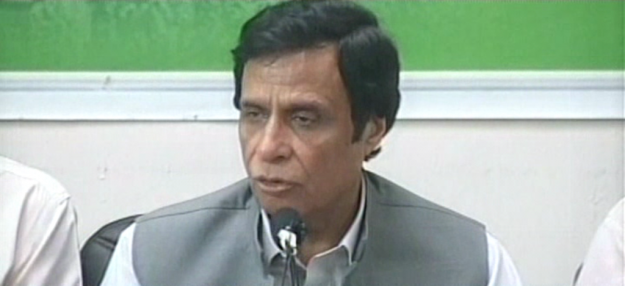 Express News screengrab of PML-Q Punjab president Chaudhry Pervaiz Elahi addressing a press conference in Lahore.
"The rulers are playing with the lives of innocent people," he further commented.
Elahi stated that "there was no need for a judicial commission, everyone knows who ordered the police to open fire."
He also said that many of the injured are in critical condition, further stating the death toll may rise.
AML's stance
Awami Muslim League (AML) chief Sheikh Rasheed Ahmad told Express News the clash in Lahore was an "act of oppression, terrorism and barbarism."
Mocking the Punjab government, the AML chief stated sarcastically that "this was the real face of democracy."
First Published In Express Tribune, 17th June, 2014.