God helps those who help themselves
Pakistan has countless examples of headstrong determined people with spirits that do not surrender in the face of difficulties. Especially the women of our nation shouldn't be underestimated. They have an iron soul and do not mind to take on the unconventional jobs that are majorly the domain of the Pakistani men. Be it becoming a Careem captain, a 60-ton heavy duty truck driver or opening a roadside food stall; they do it proudly to support their families.
Pakistani society, however, has never been kind to women that choose 'menial' jobs, mostly out of helplessness. Instead of supporting them, lifting up their spirits and respecting them for trying their best to do what they can in order to run the stoves of their houses with dignity and respect, people especially men disrespect them by passing derogatory remarks.
Since we cannot eradicate the sexist and misogynistic mentality or stop the behavior of the few, what we can do is pour in as much support and praise as we can. These women have taken a great step, putting themselves out there to earn halal through honest hard work.
A Mother With Her Son Has Set Up A Food Stall, Selling Homemade Food In Karachi.
A student by the name Arslan Shykh came across this mother-son duo at Samama Karachi and shared this picture. According to him, the food is homemade and hygienic. The arrangement too looks clean and food, fresh. We can definitely see kari and betting on yummy paye in one of those containers. The old lady selling food in the scorching heat of Karachi says a lot about her personal situation that must have left her and her son by her side no option but to choose this route.
Original Post Shared By This Good Samaritan: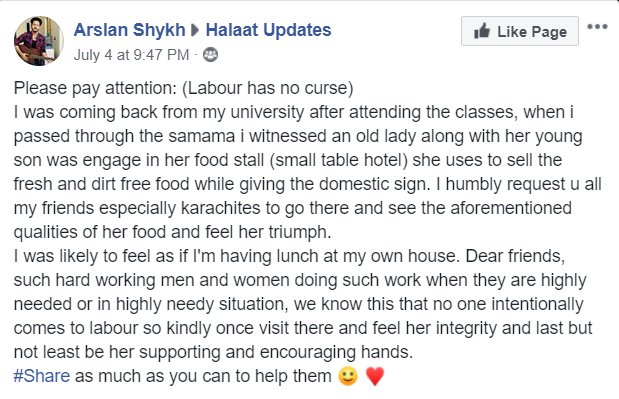 We should play our part to perfection by visiting them and trying their food out. If it satisfies then spread the word around. Let's make sure honest hardworking men and women get the respect, love, and support (morally and monetarily) they deserve.
What are your thoughts on this? Comment below!