People are becoming brand conscious and very selective about various things. Human attire is the most important thing if you want to judge someone's personality because attire plays a vital role in it. The most expensive watches you wear give your personality a charming look.
But in that attire, one key element that every individual would love to spend their money on and that's none other than a luxurious watch.
Luxurious watches are the most demanding and expensive ones on the market. These watches do fall in the area of 'Elite Watches', because only celebrities, sports athletes, and businessmen own such watches.
Most Expensive Watches In The World – 2023 Edition
Instead of looking at overall expensive watches, we thought why don't jump into this year's most expensive watches, that you can desire to have or maybe can legit have? These watches are premium ones, so the price might be way higher than expected.
Graff Diamonds Hallucination: $55 Million
There's no doubt, that Hallucination is the world's most expensive watch currently on the market. What's unique about this exclusive watch? It's a bracelet made of genuine Platinum and covered with 10 carats of rare-colored diamonds.
The brand surely pushed every limit and went beyond the expectations of making a watch. The cost of the watch is $55 Million and it's the most expensive watch ever made.
Graff Diamonds The Fascination: $40 Million
In the second spot, Graff Diamonds: The Fascination stands stall with a premium value of $40 Million and it's rare. It's one of the most expensive watches of 2023 and with an overall unique design worth every dollar.
The Fascination isn't just the classic masterpiece of horological craftsmanship, but also the pure demonstration of diamond mastery.
Definitely, it's the elite luxurious women watch out there.
Patek Philippe Grandmaster Chime Ref. 6300A-010: $31 Million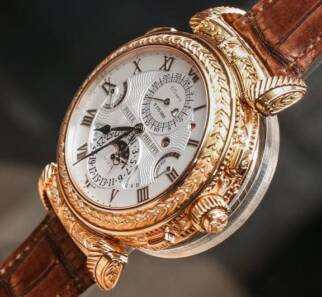 If you feel like spending $30 Million on a perfect timepiece, then Patek Philippe Grandmaster Chime is worth buying, because it offers you two at this price. You didn't get it right? it has two dials, one on the front, and one on the back.
it's been considered the most expensive Patek ever sold, it also has five different chiming modes (hence the name), as well as an acoustic alarm and date repeater.
If you look at the design, the dial is white gold and the strap is made of navy blue alligator leather. They used 18K solid gold dial plates to make it more luxurious and aesthetically appealing.
Jaeger-LeCoultre Joaillerie 101 Manchette: $26 Million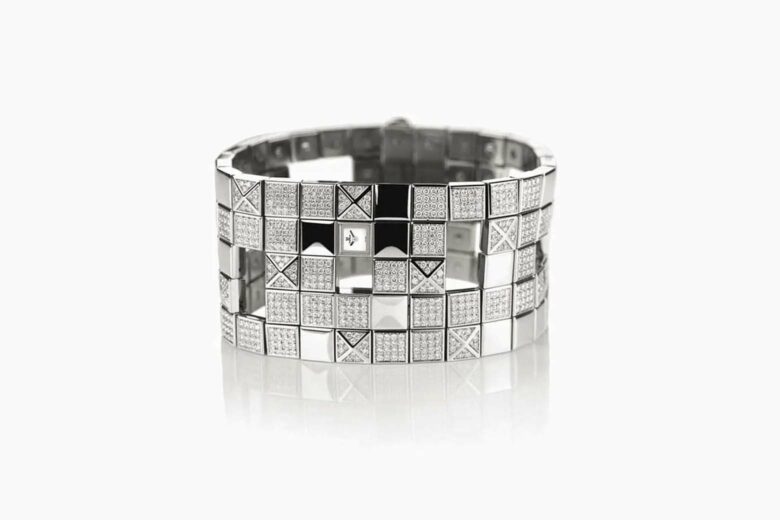 Jaeger-LeCoultre has specifically crafted this timepiece for none other than Queen Elizabeth II to celebrate the 60th year of her reign.
To give it a unique profile, Jaeger-LeCoultre has designed it from white gold and features a series of polished and diamond-set links, plus a miniature caliber 101 movements. It's one of the world expensive watches right now for this reason.
The Billionaire Watch, Jacob & Co: $18 Million
Another diamond watch on the list, the Billionaire Watch, Jacob & Co will cost you about $18 million and its premium. The wrist is fully covered with 260 carats of diamonds, apart from diamonds, 19 gems, around 167 more components, and a skeleton face added.
These elements craft the value of this precious watch that holds the standard of being in the list of the world expensive watches.
Paul Newman Rolex Daytona: $17.6 Million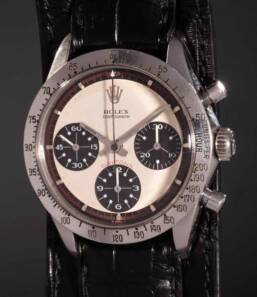 According to Rolex, they consider these models to be "professional" timepieces, and the corporation did not make a large number of Daytona versions.
It's another one of the rarest Paul Newman's Daytona, that's mixed with customization and personalization. It's something that every gentleman must own because believe it or not Rolex has some class.
The list of most expensive watches in the world never comes to an end, but these premia, exclusive high-class watches dignify your fashion, your attitude, and your style.
READ MORE: He Loves The Speed!-Cristiano Ronaldo's Expensive Car Collection
What do you think of the story? Tell us in the comments section below.