One of the best, most popular dishes that Karachi offers is biryani. This national dish is Karachi's specialty and no other city's biryani comes close to the deliciousness that is cooked and served here. But a restaurant in Dubai just went way too overboard with its biryani, and to be frank, it is jaw-dropping!
This biryani, purportedly the most expensive of its kind, served at Dubai's Bombay Borough would not give you a chance to complain as it is literally served with gold.
The Royal Gold Biryani is nothing short of its name. In fact, it is served with 23 karats of edible gold and is royally expensive at AED 1,000 or Rs43,275 approximately.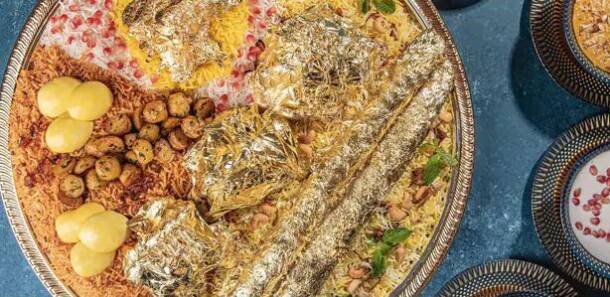 Just picture yourself paying such a hefty amount and not being able to exclaim, "What are you serving? Gold?!" But what are they actually serving?
The Royal Gold Biryani is served on a large golden 'thaal [platter]'. You will have a choice between the kind of rice you want – Biryani Rice, Keema Rice, and White and Saffron rice that alone weighs around 3kg. Moreover, the rice is served with baby potatoes, boiled eggs, roasted cashew, pomegranate, fried onions, and mint. 
The bed of saffron-infused rice is offered with a hefty fare of grilled meat. This includes Kashmiri Lamb Seekh Kebabs, Rajput Chicken Kebabs, Mughlai Kofta, Malai Chicken Roast, and Old Delhi Lamb Chops.
Moreover, the scrumptious offering comes with a wide selection of sauces, curries, and raitas, including Nihari Salan, Jodhpuri Salan, Badami sauce along with Almond, and Pomegranate Raita.
Check it out!
Once all that goes into the plate, it is topped off with edible gold leaves. Yep, edible gold, you heard that right!
Well, biryani is doubtlessly one of the most celebrated Pakistani dishes and is everyone's favorite. It is true that we do not mind paying a little extra for scrumptious foods. But the real question is – how far can you go to pay for a lavish platter of biryani? Will you be willing to pay a whopping amount of Rs43,275 for it?
We are not sure about you but this Dubai restaurant certainly expects its customers to pay this much for their special biryani meal, which they claim as 'Dubai's most expensive biryani.'
Without a doubt, one can admit that biryani is hands down the best invention of this subcontinent. However, is it even healthy though?
Read More: 8 Signs That Prove Biryani Is The Actual Love Of Your Life
What do you think of this story? Let us know in the comments section below.