The 4th consecutive Bridal Week to showcase Pakistani Dresses was organized by the revolutionary Pakistan Fashion Design Council (PFDC) and L'Oréal Paris, the world's leading beauty brand. PFDC L'Oréal Paris Bridal Week 2014 proved to be one of the biggest platforms for renowned Pakistani dresses designers to display their bridal collection. PFDC L'Oréal Paris Bridal Week 2014 was a 3-days event which held at Faletti's Hotel, Lahore.
PFDC Paris Bridal Week 2014 jumped out of the box and introduced for the first time in the history of Pakistani dresses fashion shows, a Black Carpet event instead of Red Carpet event. The black carpet event highlighted numerous prominent celebrities, models, media personnel, Pakistani dresses designers, and brand owners.
Draped in ultra-glamorous Pakistani dresses, the female show business idols that graced the event with their presence at Black carpet included Faisal Farooqui, Naseer Ahmad , Faiza, Zinnia, Maliha, Mohsin, Maida Azmat , Fiza Ali Maram, Aabroo, Aamir Mazhar, Natasha, Aamna Rahim, they wore Pakistani dresses designed by Maria.B. Aamna Taseer, Aimen Khan, Ali Xeeshan, Alyzeh Rahim, Ammara Khan, Annie Shams, Anoushey Ashraf wore Pakistani dresses designed by HSY. Other celebrities who flaunted their Pakistani dresses on the black carpet included Juggun Kazim, Hamza Tarrar, Hannat Butt, Hina Butt, Jania Bhatti, Moazzam Ali Khan, Juju Haider, Kamiar Rokni , KuKi, Madiha Qaiser, Maheen Kardar Ali, Mahgul, Mahnum, Momina, Meesha Shafi, Mehreen Syed and Wiqar Ali Khan, Mohsin Ali , Nabila, Nickie, HSY, Nomi Ansari, Natasha Saleem, Foha Raza, Nuscie Jamil, Rubia Moghees, Sadaf, Mahnum, Salima Feerasta, Sanam Taseer, Sania, Umair Tabani, Sara Tabani, Sara Shahid, Juju Haider, Sehyr Saigol, Shahzad Raza, Shamaeel Ansari, Shoaeb Shams, Sidra and Shehab, Wardha Saleem, Zahra Raza, and Zahraa Saifullah.
PFDC and L'Oréal Paris Bridal Week 2014 did not fail to enhance its digital experience on the 3rd day with the help of its Live Social Media Wall at the venue. The hall filled with people beyond its capacity yet it was very well organized by the PFDC team.
Bank Alfalah was the official banking partner, whereas the other partners included New Lahore City, Warid Telecom, FedEx, Rose Petal, GSP Pakistan, and Gerry's International. They all hosted a uniquely designed VIP lounge at the event.
The official media partner for the event was Hum TV and the official radio partner was CityFM89. The event was managed by Lotus Client Management & Public Relations all 3 days.
Nomi Ansari Gul Pakistani dresses Collection (Bridal)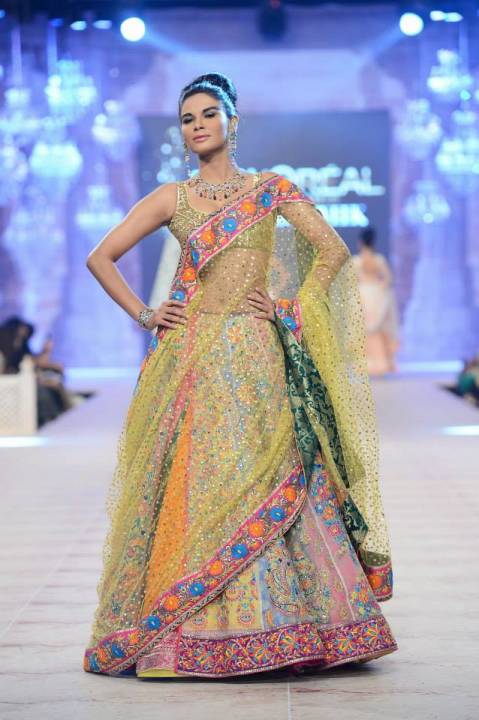 Ultra talented and super creative Nomi Ansari opened the final day of PFDC L'Oréal Paris Bridal Week 2014. He displayed his collection of Pakistani dresses (Bridal) by the name 'Gul', inspired by flowers.
Nomi Ansari gave the audience a flavor of the vintage era, displaying Pakistani cultural heritage which influences Pakistani dresses, its stitching and sense of styling to date. The collection exhibited the perfect blend of old and contemporary designs, he reintroduced the forgotten by using rare embroidery techniques and using vibrant colors in his Pakistani dresses (Bridal) collection.
His bridal Pakistani dresses exhibit featured exceptionally designed jewelry items by Waseem Jewellers. Famous TV celebrities Mawra Hocane and Mehwish Hayat appeared as showstoppers for Nomi Ansari's bridal showcase.
Hairstyling and makeup for the show was taken care of by Nabila's. The male models were styled by NGents. Loreal Paris products were used throughout the PFDC L'Oréal Paris Bridal Week 2014.
Sana and Safinaz Pakistani dresses Collection (Bridal)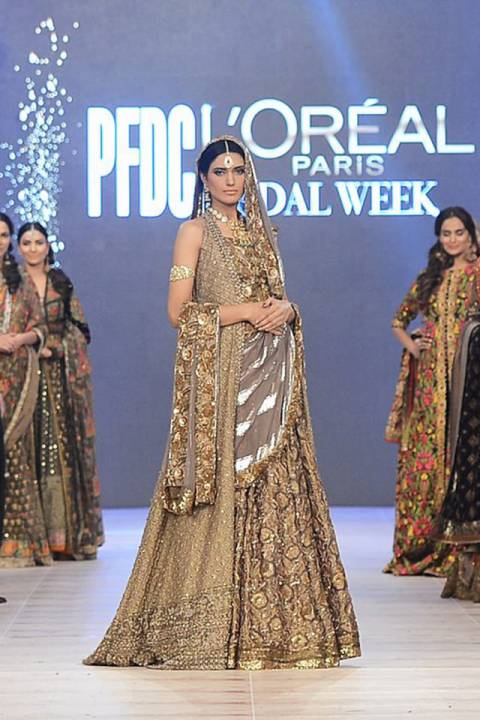 On Thursday, October 3rd, Sana and Safinaz displayed their outstanding and captivating bridal Pakistani dresses collection at PFDC L'Oréal Paris Bridal Week 2014.
The fabric used in Sana Safinaz bridal Pakistani dresses collection included net, kumkabh, silk chiffon, tissue, kora, dapka. Swarovski crystals were also used. Using a majestic palette of gold, cream, red and black, the signature Sana Safinaz style was the specialty of their bridal Pakistani dresses collection.
Sana and Safinaz collection were followed by Asifa and Nabeel. They too displayed their bridal Pakistani dresses with an unconventional twist.
Zara Shahjahan Pakistani dresses Collection (Bridal)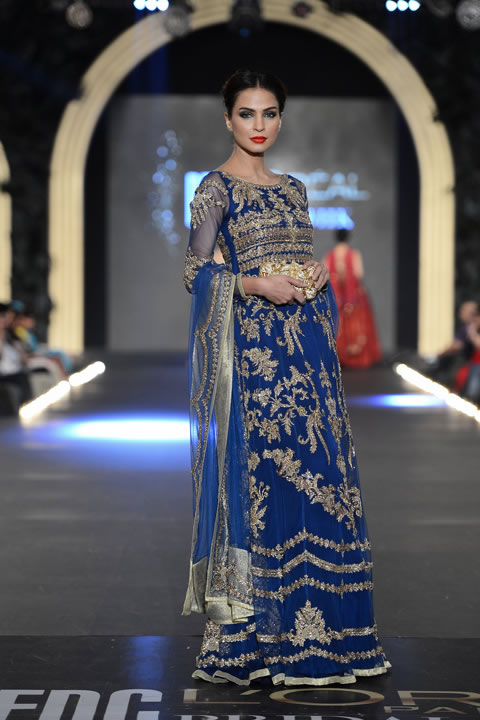 On Wednesday, 1st October, (day 2 of PFDC L'Oréal Paris Bridal Week 2014), the gifted Zara Shahjahan displayed her 'A Folk Tale' exclusive bridal collection.
After the fashion presentation made by Bank Al-Falah Rising Talent show, Zara Shahjahan showcased her bridal collection. The collection showcased the new assorted range of bridal dresses by the name 'A Folk Tale' a union of vivid colors, unconventional prints and heavy embellishments with eastern touch with which Zara Shahjahan demarked from her past collections.
The collection featured 25 original designs. All of them were set in a rich, Indus inspired color palette using the shades of pink, saffron, black, red, etc. The fabric included raw silk, cotton net, tulle and jamawar embroidered with rich conventional handiwork using dabka, pearls, sitara, naqshi, French knots, resham (colored) and mukesh. Her collection also featured men's wear in addition to women's wear.
The production of the show and choreography was done by HSY Events with Hum TV being the Official Media Partner. Hair and Makeup for PFDC L'Oréal Paris Bridal Week 2014 (Day 2) was done by Nabila's and NGents.
Ali Xeeshan Pakistani dresses Collection (Bridal)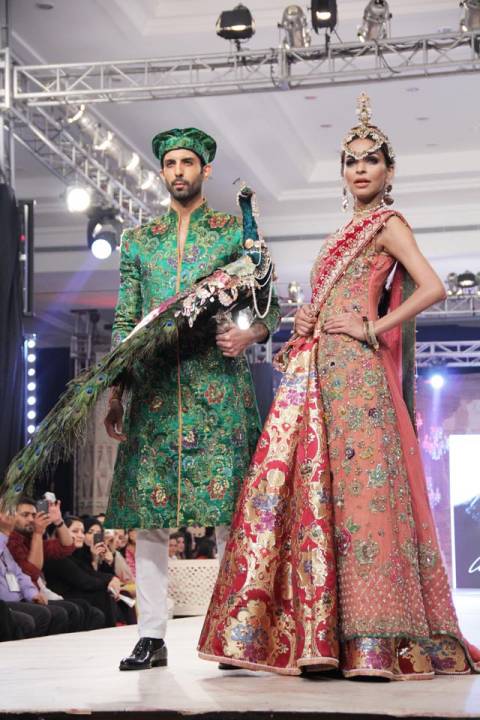 'Baghawat' – the bridal collection by Ali Xeeshan was showcased at the 4th PFDC L'Oréal Paris Bridal Week 2014 (Day 2), Wednesday 1st October.
Ali Xeeshan Theater Studio presented the finale of day 2. Ali Xeeshan showcased the bridal collection for both men and women. It appeared that the collection was inspired by a blend of the Ancient Roman civilization, the warriors and the philosophy of rebelliousness. The designer aimed to rebel against the conventionally perceived definition and ideas about beauty, grace, modesty and most significantly, against his own-self, as an individual.
Lavish and luxurious fabric and material were used in his collection such as French velvet, Shinghai, French raw silk and jacquard. They were tailored in floor-length jackets with high necks and brilliantly stitched two-piece sleeves, corsets with French patrons and boning and mid-calf length body-contouring dresses which held garment firm to the body.
The Baghawat Bridal Collection 2014 by Ali Xeeshan included attires that were decorated with a vast array of motifs and patterns evocative of the Ancient Roman culture. The collection was based in a vivacious range of hues and shades which portrayed fervor and rebellion.