The latest song by Haider Mustehsan was supposed to so upbeat that you'd want to tap your feet and groove with the music, However, the song has failed to impress many and honestly, it's pretty basic. From Jaan to Raaja to Baby and Raani – you'll hear literally every word there possibly could be. This blend of an eastern and western song has really not served its purpose.
According to people – the song is a really bad version of Justin Bieber's Baby and Haider really needs to up his game if he intends to fit in this endless competition of our media industry. We have some great talent – people like Atif Aslam, Ali Azmat and even his own sister Momina Mustehsan, just take the music industry to another level. So we genuinely suggest that Haider makes an effort and takes it a notch up with his latest song Baby, oops Kahaani.
His voice was used in a much better fashion in Na-Toon; a song that was produced by Shamoon Ismail and also featured Moroo on the track. Probably Haider needs a good producer and a realization as to which side of the map does he actually want to belong.
https://www.instagram.com/p/BsyFEvYHbcF/
An attempt at desi pop and R&B by Haider failed to impress many, especially that he has taken this risk at such an early phase in his career, unlike Momina who was in a much better place when she started out with catchy songs like Pee Jaaon that really caught the attention of many and became a hit track.
Moreover, we came across a few comments and felt like sharing it with you guys, so here goes!
Zayn and JB? This could be a fun blend…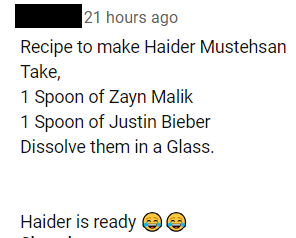 Does this person mean cringeworthy?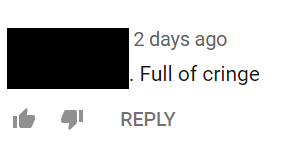 See, we told you people are saying that!
Kuch Bhi? 
WTF is going on here, matlab kuch bhi?

https://t.co/wYfyhtwaCW via @YouTube

— Noor ul Huda (@noorrulhudaa) January 18, 2019
Haider Mustehsan's new song seems a little too inspired by Bieber pic.twitter.com/CfKeRXhKZ3

— Muhammad Faraz (@Muhamma56266126) January 18, 2019
Although, few people had something completely different to what we perceived…
This!
On my mind! Haider Mustehsan https://t.co/DxhyA7y80O

— Ali HASNAIN (@call_me_hasnain) January 9, 2019
I would prefer #haiderMustehsan 's kahani @patarimusic … #KhelDeewanoKa is nothing but disappointment ?

— Maha ?? ❤ (@MahaRasheed96) January 18, 2019
Original han

Bro!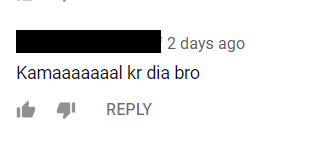 Some are just gaga about his smoldering good looks
McDonald's drive thru: What's your order maam?

Me: One haider mustehsan to go please

— Amna. (@moriartyisgay) July 2, 2018
So, what do you guys think about this latest Punjabi/hip hop/ track by the upcoming Haider Mustehsan? Would you dance on this song at a friends Mehendi? Or would you just not play it again? Would you keep it on replay or just never search it again? Let us know since we're getting mixed feedback from the public and help us come to a conclusion too because we certainly weren't impressed and we believe he could've done better!