An alarming rise in rape cases in Pakistan over the last few weeks has shaken the entire country. These cases are a wake-up call for the nation and the authorities. But instead of condemning such inhuman acts, several men in Pakistan blame the victim always.
It is unfortunate that even some influential religious figures also blame women for being raped. A recent video of Molvi Manzoor Mengal proves how patriarchy and misogyny are deep-rooted in our society.
The cleric believes that women shouldn't leave their homes without purdah and should do so only if they absolutely need to.
While giving a sermon to his followers, Molvi Mengal misinterpreted the famous Aurat March slogan of 'mera jism, meri marzi.'
He said, "My body, my choice. Your body, your choice. Then it's also men's body and men's choice. They can climb onto anyone they want. Then stop anyone, if you can."
Social media users are offended by Molvi Mengal's misogynistic remarks
Movil Mengal's inappropriate and disgusting remarks caused a stir among social media users in Pakistan. Many users showed their displeasure over the misogynistic remarks of the religious cleric.
One of the users had this to say: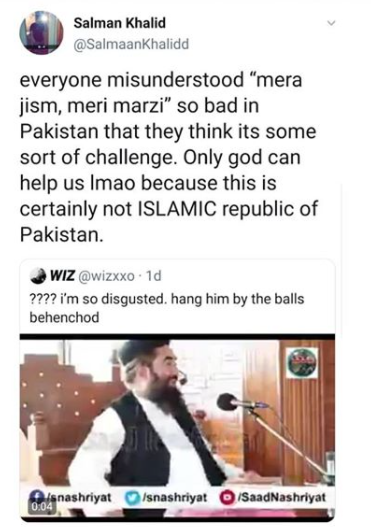 In another viral Molvi Mengal is making more horrible remarks about university going girls. Watch it, to believe it!
Who is Molvi Manzoor Mengal?
Molvi Mengal is seen as quite jovial and quick to elicit laughs in his circles. He often takes an unmistakably sarcastic tone in his public sermons and doesn't shy from commenting on any subject.
Mengal is also a member of the Wafaqul Madaris curriculum committee. He is thus one of the people responsible for giving input on what madrasa students should be taught in Pakistan. He is thus one of the people responsible for giving input on what madrassa students should be taught in Pakistan.
Just a while ago, CCPO Lahore had to apologize for blaming the motorway gang-rape victim, and now Molvi Mengal!
How on earth a religious person can spread hate and abuse in society and that too in the name of religion? While giving a sermon, Molvi Mengal is openly promoting abuse against women. Will the authorities take action against him?
What do you think of this story? Let us know in the comments section below!