Mohammed Rizwan is the new star of the cricket world in every manner. He has been showcasing his real side in every form, his batting skills no doubt unstoppable but in the Pakistan Super League season 7 he exhibited his captaincy skills that took everyone's heart.
In the 2021 T20 World Cup, Mohammed Rizwan made everyone his fan with his tremendous batting skills that no one saw it coming. His signature shot also became famous too, but this time he captured every attention by his leadership.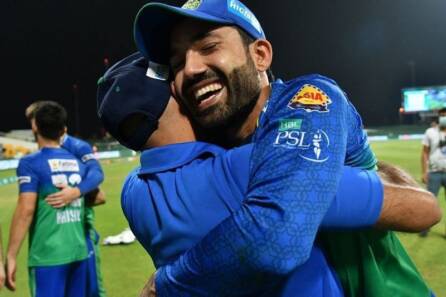 In Pakistan's mega league event, Pakistan Super League season 7 Mohammed Rizwan leading Multan Sultan and he's making history with it.
Mohammed Rizwan won everyone's heart with his captaincy
Since the PSL 7 began, Mohammed Rizwan has shown his true class of leadership and made the whole cricket world his fan. Nowadays on every social media platform, people are talking about his new trait that is exposed to the world.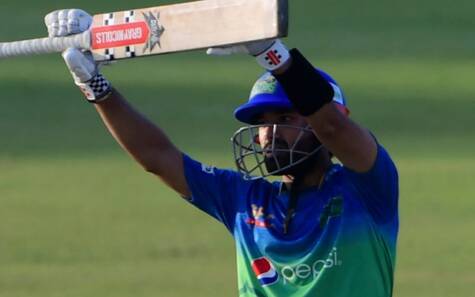 He led his side with the unbeaten streak in the latest edition of PSL. One of the Twitter users wrote, "It is Rizwan's league, and we're just living in it."
One of the eye-catching moments was when Multan Sultan has beaten Islamabad United by 20 runs. In this match, Multan Sultan struggled, because they dropped three crucial catches and missed some boundaries.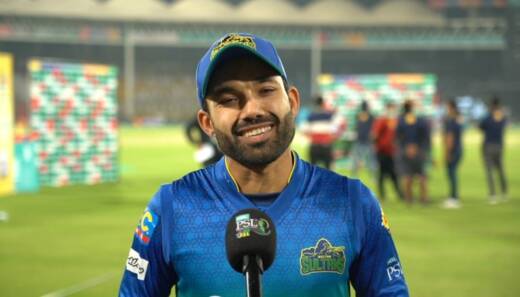 In this scenario, everyone can get furious over the players but Rizwan as a skipper looked calm and positive throughout the match with a smile on his face.
That thing grabbed most of the audience's attention. Even some people shared  Misbah-ul-Haq's statement who praised Rizwan earlier. Netizens are calling him a true and natural leader.
Fans and players react to Mohammed Rizwan's captaincy
One user wrote, Misbah-ul-Haq — "Mohammad Rizwan is a hardworking cricketer. I did know Rizwan can play in the top order. Credit for the success of Rizwan only goes to him. Nobody else should be appreciated other than cricketer himself because it's his hard work which pays off."
Another user praised Rizwan for his smiley reaction when Khushdil Shah delivered a bad ball. "After Khushdil Shah was hit for a boundary by Sarfaraz, Rizwan smiled & gave confidence to Khushdil while commentator said that Rizwan is never gonna get down, that's not his way. Then on the very next ball, Khushdil Shah got Sarfaraz out."
Rizwan's reaction when a player dropped the catch also became the main headline. "User wrote, This was Mohammad Rizwan's reaction after one of his players dropped a very easy catch. What a man, what a leader."
No doubt Rizwan suffered a lot to be at his stage, he also became the troll material that's also highlighted by his fan. He wrote, "From a troll material to on his way to be one of the most successful Pakistani captains, 4 wins out of 4 matches. Mohammad Rizwan has come a long way!"
Mohammed Rizwan undoubtedly proved himself throughout 2021 and doing the same. His hard work, the performance made him win the ICC T20 Player Of The Year award which also became one of the biggest achievements.
What do you think of the story? Tell us in the comments section below.