A Pakistani expatriate in Sharjah, United Arab Emirates (UAE) is winning hearts of the local residents by distributing free bottled water and disposable prayer mats.
Mohammad Dawood, 64, walks out of his two-story house every weekend at 5pm. He pushes a food service cart carrying the aforementioned items. He then hands these items out to anyone passing by outside his villa facing the city's newly-developed beachfront along Al Montazah Road.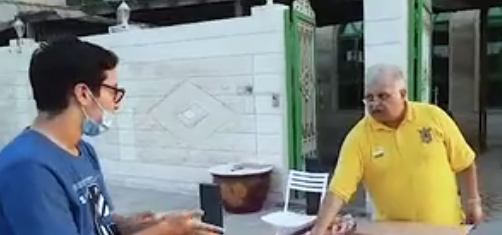 According to Gulf News, Dawood has been following this schedule diligently for the last three years. When the climate gets cool in the evening, thousands of visitors visit the nearby beach. It is at that time the visitors see Dawood distributing the different items. The 64-year-old is often assisted by his wife and sons Hamza and Samir.
Dawood said, "Very few people frequented this place in the past so most of the things in my trolley would remain undistributed. Not any more. Now this place is milling with everyone from joggers, walkers, and cyclists to people on wheelchairs and picnicking families."
"I have to keep replenishing every few minutes and add variety. So if it's not biscuits, it's chocolates and candies. The kids relish them."
Mohammad Dawood also distributes face masks and hand sanitizers
The Pakistani man also distributes face masks and hand sanitizers to the people as a protection against the COVID-19 pandemic.
According to Dawood, face masks get damp due to breathing and sweating. Many runners want to replace them. As a result, he is happy to help. He also keeps sanitizers and encourages people to use them before they pick anything from the trolley.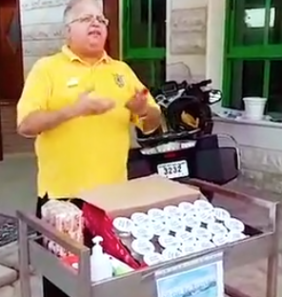 An Egyptian family also praised Dawood for distributing disposable prayer mats. They said that such mats were quite as handy as there are no prayer rooms or mosques around.
Dawood's kind gesture has helped him in making many friends, primarily in the past few weeks. One of them is financial planner Sunil Sequeira from India. Sequeira recalls that he met Dawood when he was taking an evening stroll with his wife Diena recently.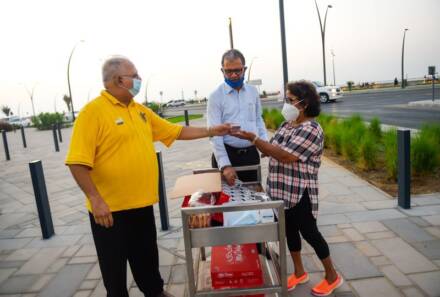 Sequeira said, "It was humid and we were thirsty. As we crossed the Sharjah International Marine Sports Club, we came across the endearing sight of a man distributing water. He offered us a bottle as well. Soon we struck a conversation. Now we are good friends."
People like Dawood really help to improve the image of Pakistan at a global level.
Since 2018, a Pakistani man Mohammed Asad has been the primary caregiver to his former neighbor Tomichan Puthuparambil Thomas, an Indian expat who is visually impaired. They share a tiny room with a bunk bed in Dubai's busy Karama district.
Story Courtesy: Gulf News
What do you think of this story? Let us know in the comments section below!