Social media reacted with divided opinions after India's Prime Minister Narendra Modi's special address to the World Economic Forum's online Davos Agenda 2022 summit failed epically. Following an alleged teleprompter failure, PM Modi failed to speak a single word.
A few minutes into the prime minister's speech – which was being translated live from Hindi to English for the audience in Davos – Modi looks to his left, speaks a few words more, and then stops speaking and looks left again because of a teleprompter.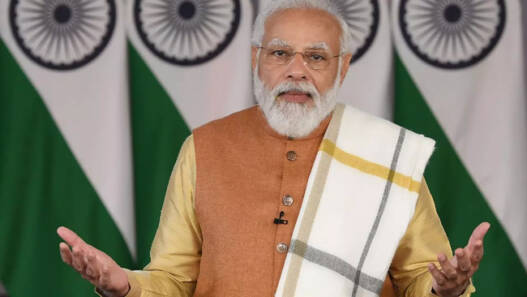 A member of his staff prompts him in Hindi to ask the Davos audience if they can hear him. He then looks straight into the camera, raises his arms as he usually does while speaking, and attempts to say something but does not say a word.
He held his silence for 10 seconds, an eternity in the world of public speaking. Then, he is shown with an earphone, mispronouncing Klaus Schwab's name and asking (in what appears to be ungrammatical Hindi) whether he can hear him: "Klaussubsirsur sab kuch suna aa raha hai?". WEF's executive chairman Klaus Schwab answers that Modi is clear.
In an unusual move, Modi asks if his interpreter can be heard, as Schwab would have reacted based on what the interpreter had said. Aware that some snafu has occurred on Modi's part, Schwab appears to improvise, after which he introduces Modi again, and from there Modi begins her speech again.
So what happened? Was it a teleprompter fail – the moment politician orators dread? If Modi's staff really really had doubts about whether the PM was audible in Davos, did they have no other means of finding out except to ask Modi himself to stop speaking and check with Schwab?
Twittersphere trolls Modi's inability to continue speaking
There was no doubt that Modi's speech was read from a teleprompter. His speeches on such platforms are evidently prepared beforehand. When such an address were delivered virtually or Modi recorded one, the teleprompter could be placed in front of him. He would be seen looking into the camera during such addresses.
Fact-checking portal Alt News's Pratik Sinha tweeted that it was unlikely to have been a failure of the teleprompter. He claimed that someone in the PM's Office was attempting to catch his eye. This, he wrote, was evident from the World Economic Forum's video of the speech.
"The teleprompter is typically in the front. When the PM is distracted, he looks to the side, where probably the team managing the event from the PMO is sitting. It is likely that someone from the team was trying to get the PM's attention," Sinha wrote.
Read More: Narendra Modi Listed As The Most Stupid Prime Minister By Google
What do you think of this story? Let us know in the comments section below.