Actor Mohsin Abbas Haider recently came forward addressing the domestic abuse allegations made against him by his wife Fatema Sohail, refuting them all including the accusation of him cheating on her with Model Nazish Jahangir.
Backtracking a little, it all started when Fatema finally broke her silence through a Facebook post, explaining the ordeal with picture evidence of physical abuse. Several celebrities came forth sympathizing and supporting her. Mohsin too didn't sit quiet and decided to respond through a press conference, calling Fatema a 'troubled woman' and someone who lies or tells half the truth. Numerous people didn't buy his explanation and considered it acting.
Also Read: Mohsin Abbas Haider Denies Allegations Of Abuse & Cheating On His Wife, Reveals Details About Her!
The Cheating Bit Was Still Not Addressed Fully By The Accused Actor; However, Nazish Jahangir Has Finally Spoken Out On Instagram Rubbishing The Accusation Placed Upon Her By Fatema Sohail. 
She wrote, "Whatever's true will come out as it is, eventually. Fatima has used a line on me without any evidence that I was sleeping with her husband and all of you accused me of being a homewrecker. Use your senses, if she had any evidence, she would have posted that too like she did of her husband abusing her. Fatima Sohail was on call with me before her delivery and I congratulated her as well. At that time, Mohsin was doing some shoot in Karachi while I was in Islamabad. But, anyway, if she is a victim of domestic abuse, then I have sympathy for her but I would like to announce that I am not the reason behind their marital issues."
She continued, "Only Mohsin Abbas Haider himself can explain why my name was dragged in all of this, that too without any valid evidence that ruined my image in front of all the media. I am still in a state of shock as I am not that person who would ever talk on anyone's character. For me, this is a very shameful act. I would like to say that only she didn't suffer from all of this but victimized me as well just for the sake of their personal grudges and that has affected me mentally."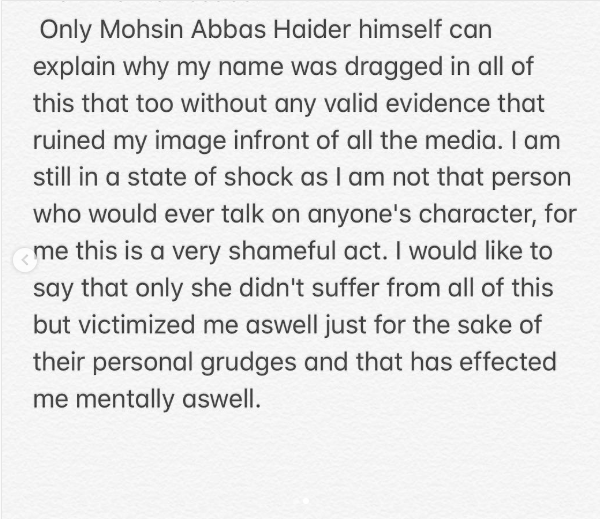 Nazish posted another statement expressing her shock at being dragged into this case, she said, "Fatima used to talk to me herself. She even used to discuss her personal life regarding her marriage. Fatima used to call me during her pregnancy even. Why would she talk to me or call me if I was sleeping with her husband? I can raise so many questions in my defense but that's not who I am. For me, this whole thing is very disturbing so I won't talk much on this topic. Mohsin Abbas Haider is a very good friend to me and so was his wife. I have no idea what happened that she involved me in all of this and accused me for things I could never even imagine."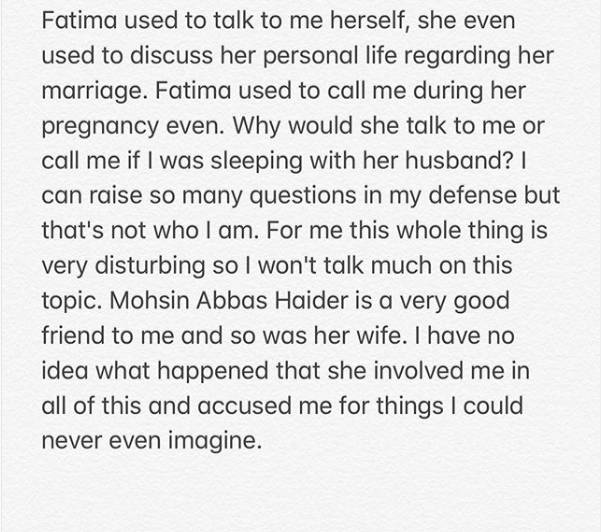 People Are Divided On This Considering Her Insta Story Few Days Back Portrays A Different Scenario, One That Isn't In Her Favor.
This case keeps getting worse with non-stop blames back and forth between the two spouses while Nazish's side of the story is met with cynicism by the crowd.
However, in any circumstances, violence and abuse are not justified or allowed. This isn't the first case and unfortunately will not be the last. Hopefully, the men who are mostly the inflictors, their time should be up.
What are your thoughts on Nazish's explanation? Comment below!