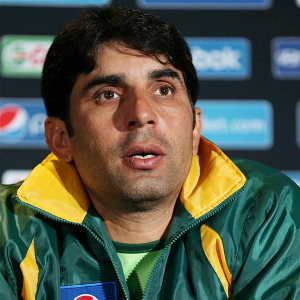 Introduction – Misbah-ul-Haq
Early life: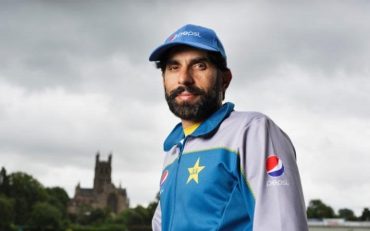 Full name of this Pakistani cricket coach and legend is Misbah-ul-Haq Khan Niazi.  He was born on the 28th of May in 1974. He belongs to the city of Mianwali, Punjab. Misbah had a passion for cricket since childhood and he used to play tape ball cricket like most of the boys in their youth in Pakistan. He used to play for his hometown in local competitions. However, his parents were adamant that he complete his education before pursuing any of his passions on a higher level. Therefore, Misbah obtained his BSC degree from Faisalabad. He completed his MBA from University of Management and Technology. He is married to Uzma Khan who is a painter by profession. She is a strong support of this warrior captain who has stood by his side firm through thick and thin. She accompanies him on all the tours to support him. They have two children Faham-ul-Haq and Noriza Khan. She is also very active on social media forums like Facebook and Twitter.
Misbah-ul-Haq put his first step in the world of cricket in 1998 by making first class cricket debut playing for Sargodha. He was 24 years old by then. He was selected for Pakistani Test team in 2001 while for ODI cricket team he got selected in 2002.
Career:
Misbah-ul-Haq greatly impressed cricket viewers with his performance in Tri-nation series held in Nairobi, Kenya in the year of 2002. He gave a consistently good performance by scoring two fifties in three innings. However, next was a series against Australia. Misbah gave a disappointing performance, scoring merely twenty runs at maximum in three Test matches. Then Misbah made a comeback when Pakistan team was going through major changes after it failed to perform in 2003 ICC Cricket World Cup. However he was again dropped from the team due to unsatisfactory performance. In spite of being dropped from international cricket team, Misbah continued to play first class cricket and consistently topped the charts in terms of average runs scored by a batsman.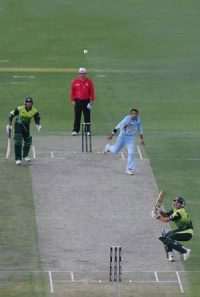 It was the inaugural ICCT20 World Cup in 2007 that proved to be the turning point in Misbah's cricket career. He occupied the place of middle order batsman, emptied by Inzamam-ul-Haq. He gave some exceptional performances during the world cup and caught attention of people world over. To name a few, he gave scintillating performance against the arch rival Indian team during the group stage match. He scored a fifty in the tied match and got run out while trying to make the winning run on the last ball. In the Super 8s stage, Pakistan team had an important match with the world champion team Australia in which he was awarded Man of the Match award and led the Pakistani team to a convincing victory. His performances led the Pakistani team to the final against India in which Pakistan lost after a thrilling match. His Paddle Scoop cricketing shot became quite famous in the tournament. He was the top scorer for Pakistan during the tournament and 3rd top scorer in the tournament among all the teams.
Next was a series against India in India in the same year where Misbah again proved his worth to Pakistani cricket team. He turned out to be the savior of Pakistani team when in the second test match India put up a magnanimous total of 616 runs in the first innings. Pakistan staggered with 150 for 5 when Misbah-ul-Haq and Kamran Akmal put up a match saving partnership of 207 runs. Misbah scored his first ever test century. He scored an unbeaten 161 runs. He also scored an unbeaten century in the third test.
Misbah's remarkable display of cricket elevated him to the post of vice captain of Pakistan cricket team. He was a prominent member of the winning squad of 2009 world T20 cup.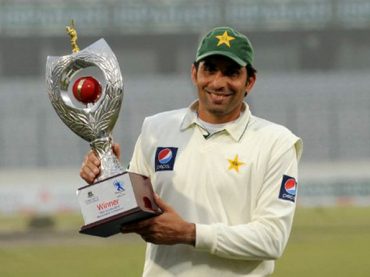 In 2010, after the Australian tour, Misbah did not get selected for any squad of the three cricketing formats for the tour of England. Dejected by the fact, Misbah decided to retire if he went on unnoticed like this by selectors. But then rose the game changing controversy of spot-fixing whereby a vacant space was created for the role captaincy when Salman Butt along with Mohammed Asif and Mohammed Amir were caught for spot fixing charges. Apart from this, Pakistan was going through a batting crisis as the batsmen failed to give impressive performances. Much thought was given as to how to correct the crumbling batting show of Pakistan team. Moreover, it was a big question as to who shall occupy the post of Pakistani Test captain. The vacant place was surprisingly filled by Misbah-ul-Haq. Many people reacted differently to this decision. Some considered it as not much of a sound decision, while some appreciated the decision. Geoff Lawson the former Pakistani coach remarked that Misbah is blessed with the best cricketing brain in Pakistan and can do wonders for the Pakistani team. He silenced all his critics by his performance in the series against South Africa in UAE.
In the year of 2011, Misbah played a pivotal role in leading the Pakistani team to the semi finals of cricket world cup under the captaincy of Shahid Khan Afridi. However, he faced severe criticism from experts and cricket fans for playing too many dot balls in the semi final match against India. Pakistan lost the match which they could have easily won.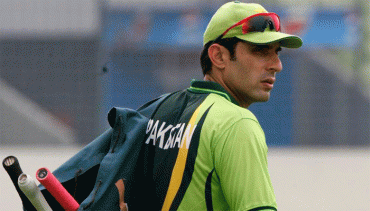 In the same year Pakistan toured the West Indies and New Zealand in which Misbah's brilliant performances stabilized the collapsing Pakistani team. In 2012, Misbah stepped down as the captain of T20 team and was now the captain of the Test team only. Year 2013 proved to be a good year for Misbah as a batsman. He occupied the 7th position in ICC test ranking. He was the leading run scorer in ODI cricket. Often criticized for his slow run rate, Misbah-ul-Haq scored a test century against Australia off 56 balls. It is the fastest ever test century. The record is being shared by Viv Richards and Misbah-ul-Haq.
In 2015, Misbah retired from ODI and T20 cricket after 2015 World Cup held in Australia. Pakistan made it to the quarter finals where Pakistan lost the qualifying match against Australia. That was the last ODI played by Misbah. He was the leading run scorer for Pakistan during the series.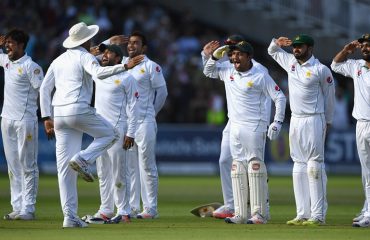 In 2016 Pakistan had a successful test tour to England under the captaincy of Misbah. He proved all his critics wrong who held the opinion that Misbah cannot perform well outside UAE. He scored century in the first test and paid tribute to the Pakistan Army by doing ten pushups who had trained the Pakistani team before the tour. He made the record of being the oldest cricketer to score a century in 82 years. He also made the record of oldest Test captain to score a century at the age of 42 years and 2 months. Under the captaincy of Misbah, Pakistan became the number one test cricket team in August 2016. It was the first time since 1988 that Pakistan team achieved this status. However, at the end of year 2016 Pakistan had two struggling tours against New Zealand and Australia after which Pakistan lost its number one status.
Other Leagues Played: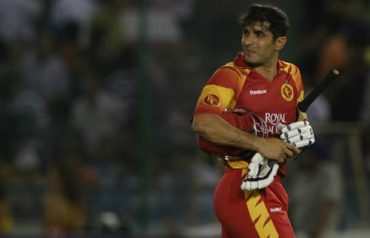 Misbah-ul-Haq has been part of many international leagues. He played the Indian Premier League in 2008 as a member of Royal Challengers Bangalore. In 2012 he played for Kandurata Warriors in Sri Lanka Premier League. In 2013, he played for St. Lucia Zouks in Carribean Premier League. In Bangladesh he represented Abhani. In 2013 he was offered a two-year contract by the Worcestershire County Cricket Club which he denied because of his commitments. In 2015 he played for Rangpur in the third Bangladesh Premier League. In 2016 he also led the Islamabad United team in the first and currently playing the second edition of Pakistan Super League. His team won the first edition of PSL, defeating Quetta Gladiators in the final match.
Misbah-ul-Haq – The Warrior Captain:
A reputed British newspaper called Misbah-ul-Haq as the best contemporary Test captain in the world of cricket. But this captain came a long way before attaining this tag. Misbah-ul-Haq was given captaincy at a time when Pakistani cricket was going through turmoil and was plunged deep down into a hopeless pit. It seemed like Pakistani cricket would die. When Sri Lankan team was attacked by terrorists in 2009 International cricket came to a halt within the boundaries of Pakistan. Hence, UAE became Pakistan's home ground. To worsen the situation, spot-fixing scandal rose which greatly tarnished and shattered the moral and confidence of Pakistani cricketers. Misbah was given the responsibility to lead this shattered and devastated bunch of boys with no such concept of "home advantage" as Misbah never captained any match in Pakistan.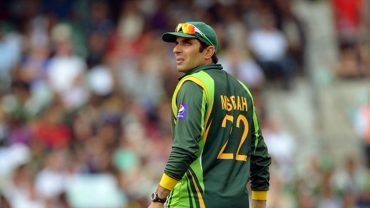 Misbah fulfilled the responsibility with full courage, diligence and most importantly patience and focus towards the objective, while ignoring all the hurls of negative criticism that came his way ever since he became the captain. He was given captaincy after being ignored countless times by selectors, at the age of 36. This in itself was a big challenge to prove oneself at an age when people ponder over retirement. Misbah faced a lot of criticism for his slow, patient and focused style of playing cricket. But this kind of firm and steady approach towards game inspired other players to play with more responsible behavior. We got to see the likes of Asad Shafiq and Azhar Ali as a result who are quite exceptional test players. Misbah's steady approach towards game encouraged spinners to play important role in victory of Pakistan team. Saeed Ajmal for instance gave some match winning performances under Misbah's captaincy. Misbah has the leadership skills particularly that of determination and diligence that were most needed at the time of crisis when he was handed over the captaincy.
Records and Achievements: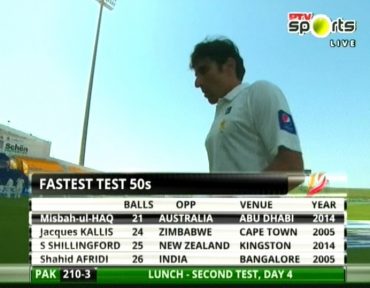 Misbah-ul-Haq made Pakistan proud by his countless records and achievements. He holds the record of fastest test fifty scoring it in 21 balls. He also holds the record of most fifties in one-day internationals without scoring a century. He has scored 42 fifties altogether. He was the leading run-scorer in 2013. In the same year he scored the most fifties in one day internationals in a calendar year. The captain who had been severely criticized by experts and fans, turned out to be the most successful test captain Pakistan has ever had by giving 23 victories to Pakistan. He is also the first captain from South Asia to win against South Africa in South Africa. He is the second Pakistani captain to have won the Asia Cup held in year 2012. He is the Eight Pakistani player who has made centuries in both innings of a test match. Not only that, he holds the record of being the only Asian captain to defeat England in four or more test matches. This captain also has greatest number of centuries in test matches. His endeavors which led to the revival and uplift of Pakistani cricket are recognized world over. Jarrod Kimber a writer for ESPNcricinfo wrote in his article:
"Misbah created a team when one didn't exist; Misbah believed in a team when no one did. For a short time, they held the Mace, Misbah held it, and Misbah gave it to them. It might be over. Hell, whatever it was, it was wonderful. If it is over, Misbah, zindabad"
He also won the ICC Spirit of Cricket Award 2016 for his excellent display of sportsmanship. He is the first Pakistani to achieve this award.
Additionally, for his brilliant services to the Pakistan cricket board, the right-handed batsman and the most successful test captain had awarded pride of performance in 2014 and Sitar-e-Imtiaz in 2018 by the Pakistani government. The Sitara-e-Imtiaz is the third-highest civilian award of the country and Misbah-ul-Haq among those eight lucky players who got this honor.
Brand Endorsements:
Cricket is one of the most popular sports played in Pakistan. Popular cricketers usually endorse brands. Misbah also became face of brands such as Pepsi, Qmobile and Atlas Honda.
Retirement:
Misbah had planned to retire from test cricket after a successful test tour of England in 2016. But the Pakistan Cricket Board insisted him to stay for some more time on the pretext that the country needed him.
In early January, Misbah announced his retirement from ODI and T20I after the 2015 World Cup. Later on, he was the leading run-scorer of the tournament from the Pakistan side. In the end, the quarter-final became last ODI for Misbah. However, he continued to play in the longer format.
On May 10th, 2017, he played his last international test match. Fortunately, he got a very special farewell moment as Pakistan won the first-ever test series against West Indies in the West Indies.
Misbah-ul-Haq is very well known for his calm temperament and his style of playing according to the situation that made him an intelligent player. He was named as the most successful Pakistani captain ever, and his achievements became the reason of his consideration for coaching.
After retirement, Misbah was appointed as a head coach of the Pakistan cricket team and chief selector as well for three years duration. However, he is the one who is performing as a chief selector and a head coach at the same time.