Famous actress and model Mira Sethi's wedding is grabbing everyone's attention. Mira tied the knot with her childhood family friend Bilal M. Siddiqui.  The subtle and simple way the marriage took place has mesmerized social media.
A couple of weeks back they had their wedding ceremony at San Francisco. And the post uploaded by Mira has been turning heads. In the picture, she is seen wearing a simple dress paired with a normal, everyday ponytail.
The caption to her post read,
"I did my own makeup, scooped my hair into a ponytail, and married the love of my life. Two weeks before the wedding, at Burning Man, I painted love of life's nails while love of life was asleep. Love of life woke up, looked at hand, smiled, and went on with his day. Two weeks later he strolled into wedding venue with these nails. I love him, and here are some photos of this crazily delightful day"
In a day and age where people focus on spending heaps on money on ceremonies, this has gained a lot of praise. The way she expressed her love for her husband showed that she desires nothing materialistic. Just the idea of marrying the 'love of her life' is enough for her. Nowadays, a lot of celebrities are keeping their weddings as simple as possible. 
Mira believed she didn't need to display fancy decorations or set a different budget for her makeup or dress. As a famous celebrity like her is able to keep her wedding as causal as possible, it gives out a great message. It reminds people to stop mindlessly obsessing over heavy dresses and going into debt to afford the decorations.
Even during the Nikkah and Mehndi, she dressed as simple as possible. Her makeup and jewelry were minimal. And the way Mira Sethi smiles in front of her husband is enough to confirm her love for him! Mira's friend, Adnan Malik, posted an appreciation post for her and Bilal on Instagram:
Her brother Ali Sethi also made the wedding as magical as ever by singing in his melodic voice. The couple can be seen happily overlooking the performance as Ali's angelic voice coats the surroundings.
Here are some of the responses to the marriage ceremony!
Actress Ayesha Omar made sure to congratulate the freshly married couple!
Mahira Khan also complimented the couple by sending much of love to their way!
Once again, Mira Sethi's normal wedding ceremony is able to promote an important message for a lot of people. Mira wore everyday items like scrunchies and one of her old watches! The actress even thanked for pointing out that she was wearing her favorite old watch.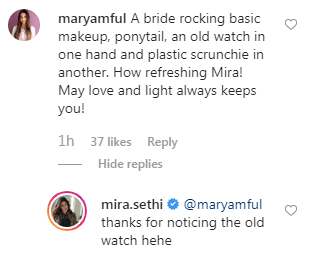 Did you like the simple way they wrapped up their marriage ceremonies? Or do you prefer the traditional way of wearing heavy jewelry and dresses? Share your thoughts using the links below.