Odds really turned out to be in favor of the viral couple of University of Lahore (UoL). The Ministry of Human Rights has asked the university to re-admit the two students, the UoL couple, who were expelled for hugging on campus. It termed the university's decision an "overreaction".
In a letter to the University of Lahore's vice chancellor, dated March 16, the MHR Parliamentary Secretary Lal Chand Malhi said the university management had "overreacted" and expelled the students without giving them the opportunity to explain themselves or examining all the details of the incident.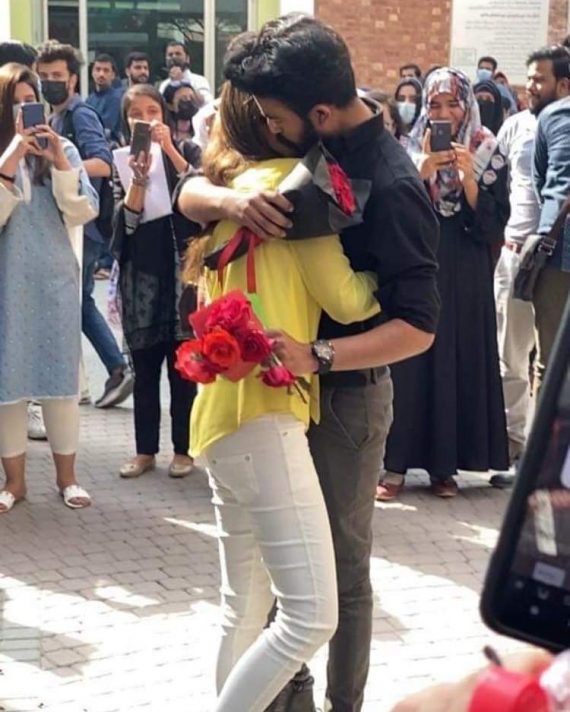 Moreover, terming the university's action as "moral policing", he said that deviant behavior should instead be regulated through counselling. However, such services were mostly not provided by university administrations.
In addition to this, the secretary said that their expulsion was "certainly uncalled for and an evident case of violation of the human rights of the students".
"Both the girl and the boy (Hadiqa Z. Javaid and Shehryar Ahmad Rana) did not commit such a heinous crime for which they were punished severely and expelled from the university. This would destroy their career and future education opportunities," the letter read. So the human rights ministry has asked UoL to re-admit the couple.
Re-admit the expelled students!
In addition to this, the letter said that the very same personal freedoms of the right to marry and propose at will were also guaranteed by the relevant laws and Constitution of Pakistan.
The "extreme action" of the university had sent a critical message at the national and international levels that it could not tolerate and accept two students proposing to each other, wrote Malhi.
He further stressed that the "extreme punishment" was in contravention of justice and would have "very negative repercussions for the society. I would reiterate that the decision is in contradiction of basic human rights".
More so, he urged the university administration to reconsider its decision and restore the admission of the students.
Hadiqa & Shehryar express their gratitude
Last week, a video of the couple, made at the University of Lahore went viral. It subsequently caused an uproar on social media. The proposal video showed the accepting his lover's proposal and the bouquet with a smile and warm hugs her. Unfortunately, the administration did not receive this public display of affection too well. It is pertinent to mention that as a disciplinary action, it expelled the students from the university.
Earlier, the girl took it to her alleged Twitter account to clarify that it was not a 'publicity stunt'. Nonetheless, do you know that the two have tied the knot? Meanwhile, another Pakistani university couple has gone viral for their 'filmy' proposal on the campus.
What do you think of this story? Let us know in the comments section below.