14th August 2021, Independence Day where Pakistani youngsters, elders, and everyone were celebrating the day on their own. But after few days something came up on the internet that became the main center of attention and took control over every social media account. It somehow looks like a publicity stunt to defame Pakistan.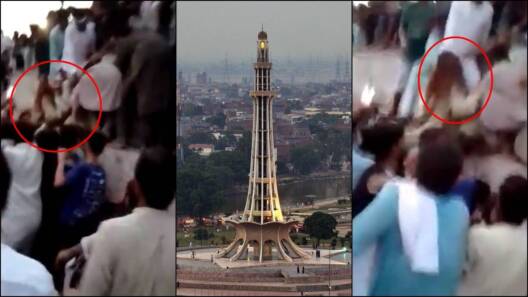 An incident is known as "400 Vs 1". Yes, the incident where the TikToker Ayesha Akram has been harassed by 400 men. This incident shook everyone, from common people to celebrities everyone rushed towards their social media platforms and showed their support.
Every girl started calling out men as the rapist, culprits and so many words that they can use it. It was a horrifying incident, that one woman was groped by almost 400 men in daylight, and no one took any action to stop them. That made everyone even more angry and furious.
Up till now since the FIR was filed against those 400 harassers, Police have also arrested around 33 suspects. Within hours many of their faces were also revealed and published on different internet platforms.
It was considered as a big tragedy on the historic day of Pakistan and at a historic place. But there are always two sides to any story, not one?
Till now everyone came on and listened to Ayesha's side which sort of look like preplanned. Why preplanned, because she paraphrased the whole incident and didn't tell the actual truth to the people.
Meet & Greet Went Wrong at Minare Pakistan
Now here are some facts that need to be cleared out because what Ayesha Akram said on TV is different. Because the whole incident occurred while a meet and greet occasion. Yes! Ayesha Akram is a well-known TikToker who called out her fans for a meet and greet.
To the response lot of her male fans came and took numerous selfies. Even though her fiancé was also there and touching her very inappropriately in front of 400 men.
At the beginning of the meet and greet everything went smoothly. But as soon more people came on aboard her overenthusiastic fans couldn't control her emotions and rushed over her which turned out to be a terrifying incident.
So, those 400 men weren't strangers at all, they were her fans who brutally treated her, harassed her, and tore apart her clothes.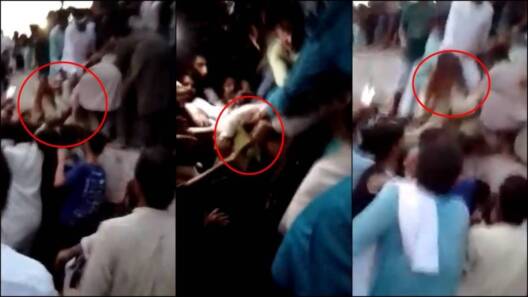 Which is worse and every single person should be punished at any cost. But why she waited for two days until the video went viral and people started talking about it.
Because day after the incident she uploaded her pictures where she was happily smiling and can be seen there's no sign of traumatizing at all.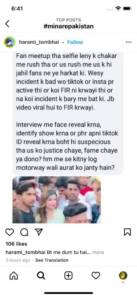 One of the most important aspects, she even didn't file an FIR on that day, she was fully active on her all-social medial handles and posting stuff. After that Ayesha and her fiance made a video where they totally changed the whole scenario and claimed that they were just standing there.
The way she reacted after the incident, posting her pictures with a smiley face like nothing happened raised more questions.
A Publicity Stunt or Preplanned Campaign To Defame Pakistan?
Was it a publicity stunt to defame Pakistan? Or it was planned to defame Pakistan as it's not a safe country for girls. Because if you look into deep, every fact and aspect give you the clear signs of these two main questions.
In an interview she said, that she just went to celebrate 14th august, she didn't tell that she called her fans out there for a meet and greet. It's like people are showing their true support, writing big paragraphs for her and even celebrities also raised their voices against this traumatizing incident.
Instead of telling the whole truth, she's changing the whole scenario and keeping her clean.
Even some people who were there said that "she called us" meaning for meet and greet. Everyone knows what type of people are on TikTok, so having such illiterate people behaving like wild animals to a girl is something you can expect.
Although Punjab police are doing their work and tracking every suspect of the incident.
Even PM Imran Khan also personally spoke to IGPunjab, police are catching all culprits involved in manhandling of female TikTok in Lahore & those damaging statues of Ranjit Singh at Lahore fort.
These are gross violations of laws & social norms, govt won't spare a single person involved.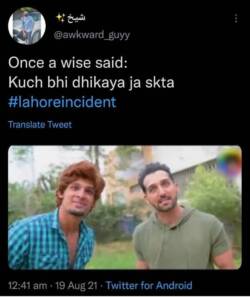 No one knows what's true or not. People are divided over various information they have got and seen over the internet. This wasn't the first time it happened, last year same sort of incident took place at Minar-e-Pakistan and the victim was Tiktoker.
What do you think of the story? Tell us in the comments section below.