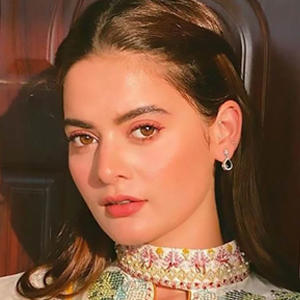 Biography
You can, without hesitation, consider Minal Khan as the most enchanting rising talent of Pakistan. She is one of those personalities who has constrained thousands of viewers to give honest appreciation towards her eye-catching performance in numerous drama serials and there she has seen to be embedded with jazzy dresses. She has done in many of the profoundly evaluated drama serials with the most talented and senior star performers like Sajal Ali, Hina Dilpazeer, and many other known actors.
Minal Khan also takes part in modeling different brands for mainstream ads and social media campaigns. Minal got much fame for reducing her weight remarkably as according to some of her old pictures from the past, she was quite overweight. Her passion to join the showbiz industry made her reduce the weight in a focused manner which is an inspiration for many fans.
Educational Qualification 
She did her matric from Karachi School and then came into the Showbiz industry due to which she stopped her education. In the HSY show, she revealed her thoughts of continuing her education; moreover, she declares that she's doing BA.
Marital Status 
In her recent Instagram post she made it her relationship public by showcasing some photos of her fiancé and ring so for all the fan you must know that Minal Khan and Ahsan Mohsin Ikram are engaged now!
Ikram also shared a photo of his now-fiancée on Instagram, donning a ring on her finger Monday morning, to confirm that she had said yes. Many congratulated the duo on the Insta post, with fans and fellow celebrities sending in their love.
Family Particulars 
She belongs to a conventional family where her father Mubeen Khan, is a Police officer and a strict guardian, while her mother, Uzma Mubeen, is a housewife. She has a twin sister Aiman  Khan who also belongs to the industry and is one of Pakistan's prominent actresses. She has 3 brothers Maaz Khan, Hammad Khan, and Huzaifa Khan, who are currently studying.
Minal is not only in her family who belongs to the showbiz field. Her twin sister Aiman Khan is also a famous face of the TV industry. And her brother-in-law Muneeb Butt is also a TV star. She was just 14 years old when she made her debut on TV. Today she is one of the top TV actresses.
Her Bond With Aiman Khan 
Minal is very close to her sister Aiman Khan. They very often give interviews together and are also seen together in modeling projects. They are also known as Aiman Minal or Minal Aiman. Minal Khan is also very active on social media and keeps in touch with her fans.
Minal Khan found it really difficult to adjust after Aiman got married. Aiman, too, used to cry daily after she got married. Even now, she stays in close contact with her twin sister. Minal also helps Aiman out with her daughter playing the ideal role of a khala.
Professional Life
Minal Khan is one of the beautiful young actresses. She manages to hold a colossal fan following because of her charming personality and acting chops. Minal carved a niche for herself in the showbiz industry in a brief period. 
 She started her showbiz as a child artist in Kaash Main Teri Beti Na Hoti in 2011 then made her small-screen debut when she was relatively young in 2012 in a drama serial 'Qudoosi Sahab Ki Bewa'. The drama cast includes Hina Dilpazeer, Sajal Ali, Badar Khalil, and Shabir Jaan. 
Next year in 2013 she was seen in a super hit serial 'Adhoori Aurat' opposite Faysal Qureshi and beautiful Ayeza Khan. One after another she started getting being recognized and with each passing serial, she groomed herself in looks plus acting-wise. She has worked with several prominent actors, and today, she is no less than others.
At the start, she was seen performing supporting roles opposite other lead actress, but now she comes in a lead part. Her serial 'Ki Jana Mein Kon' opposite Faizan Khawaja, Saad Qureshi, and Yashma Gill became a superhit serial for which she received much love and appreciation. Currently, she is busy doing various projects
Dramas/Telefim/Series 
Her projects till now are listed below;
2011

Kaash Main Teri Beti Na Hoti

2012

Quddusi Sahab Ki Bewah

2013

Mann Ke Moti

2013

Adhoori Aurat

2014

Mere Meherbaan

2015

Mol

2015

Mithu Aur Aapa

2016

Joru Ka Ghulam

2016–2017

Hum Sab Ajeeb Se Hain

2017

Sun Yaara

2017

Malkin

2017

Beti To Main Bhi Hun

2017

Laut Ke Chalay Aana

2017

Dil Nawaz

2017–2018

Parchayee

2018

Ustani Jee

2018

Ghamand

2018

Kabhi Band Kabhi Baja

2018

Ki Jaana Main Kaun

2019

Hassad

2019

Aey Ishq

2019–2020

Qismat

2020

Jalan

Nisha

2020

Nand
Criticism She Faced 
Minal Khan's drama 'Jalan' got a lot of criticism and even got banned for some time. She has been under hot water due to her controversial role in the drama Jalan where she is playing a menacing and envious sister who wants to ruin her sister's house for her own benefits. Her negative character and portrayal of such a bold issue on television have been brutally criticized by people. The actress is not afraid of the consequences and revealed valiantly in her recent interview that she is ready to face any controversy and she utterly owns her character " Nisha". And hence become the most controversial drama of 2020.
She also revealed in a recent interview regarding the backlashed she faced because of her body image and criticized many platforms owing to her acting skills
Current life 
She is currently busy with modeling and might be engaged in shooting for her upcoming projects.