TECNO has embarked on a new campaign that is expected to be bigger than ever. The fans believe that they have seen it all but TECNO is set to amaze them with something remarkable. For the past few days, there was a buzz regarding anticipation for a new smartphone by TECNO. The expectations were fueled by the unveiling of Spark girl on TECNO's social media pages. Now, TECNO has announced the name of the glamorous actress and the ultimate gaming king.
The Spark girl is none other than the gorgeous Minal Khan. Her mesmerizing tenacity resembles the upcoming device that TECNO proudly named Spark 7 Pro. It is another feather in the hat concerning the long line of the famous Spark series. Minal Khan was the perfect choice for endorsing Spark 7 Pro, as it promotes association with the youth on a huge level. Minal Khan is stylish, elegant, and immensely competent. These features also resemble the qualities of the new Spark 7 Pro.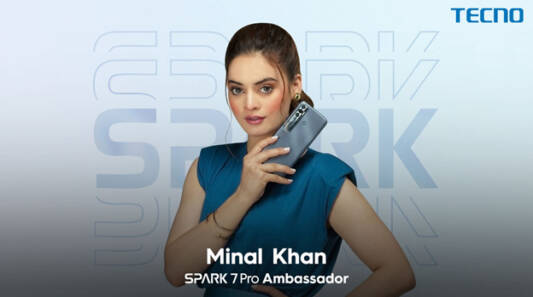 The Spark 7 Pro is will have a MediaTek Helio G80 processor for providing a supreme gaming experience. The 90 Hz refresh rate makes it a smooth and efficient device. Along with these features, there is an outstanding 48MP camera that will help in producing professional-grade pictures. Amazingly, these features are available for the mid-range price level.
The news of Spark 7 Pro has received positive responses. As people showed their joy and love on the social media pages. It seems that the new Spark 7 Pro is going to spark up everyone's life as it is evident through their responses. TECNO is striving to become a more relatable brand by spreading compassion and excitement. The overall upgrade is visible in the preparations for the new launch.
With the amazing record of all previous Spark series phones, TECNO is set to spark up your lives with this new addition. TECNO has set high marks with all previous campaigns and fans are all excited for what new shall come out this time. Stay tuned for more on this in the coming days!