Disclaimer*: The articles shared under 'Your Voice' section are sent to us by contributors and we neither confirm nor deny the authenticity of any facts stated below. Parhlo will not be liable for any false, inaccurate, inappropriate or incomplete information presented on the website. Read our disclaimer.
When was the last time you guys witnessed a helicopter being used to dry out pitch? Well, it has been used often.
Most recently, it was used by an English Cricket Club "Bamford Fieldhouse Cricket Club" in 2016 when they were too desperate to make sure that match goes ahead. Unfortunately, that attempt was failed and they lost the series.
This time it was Pakistan's PSL where not just 1, but 2 helicopters were used to dry out the pitch and outfield for the match. And ain't it worked? People in and out of the ground really enjoyed and cheered for the intention to keep the match going. After all, it was about "Cricket coming Home!"
Helicopters being used to dry the Qaddafi stadium in Lahore, chaa gaye Lahori, #LahoreLahoreAye #PSL3Lahore #PSL #PSL2018 pic.twitter.com/GYDU4WefNW

— Lahore Lahore Aye (@LahoreLahoreAy1) March 21, 2018
Well the season of PSL is in its full swing in Pakistan. And just when we thought we have seen it all like the amazing catches, the nail-biting last overs, the super overs and the fabulous hitting by Ronchi and K. Akmal, this gesture for drying out the pitch, took social media by storm with all the memes and tweets on it.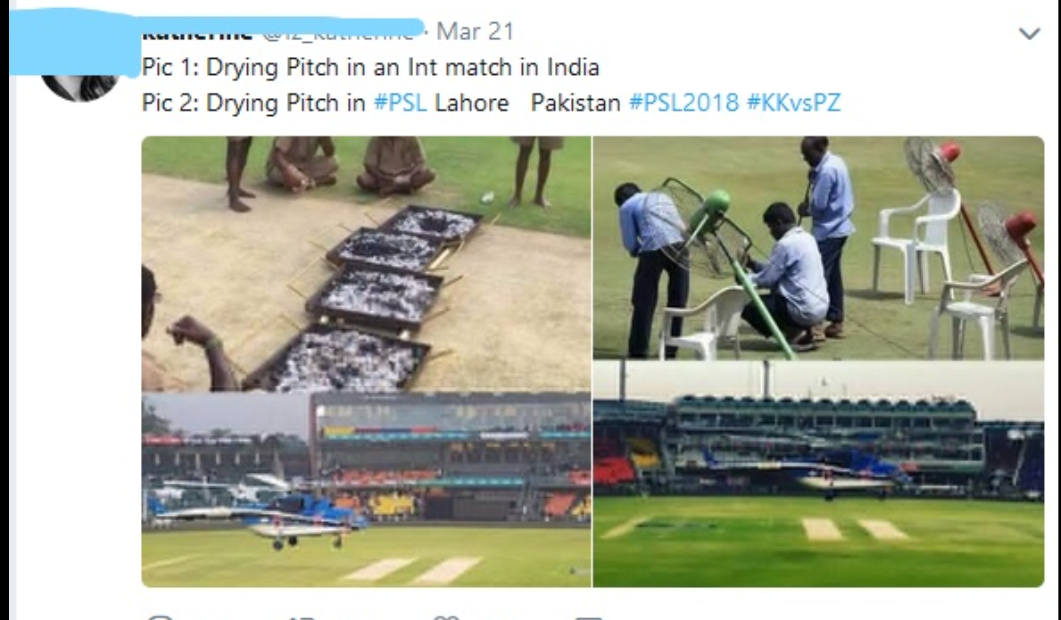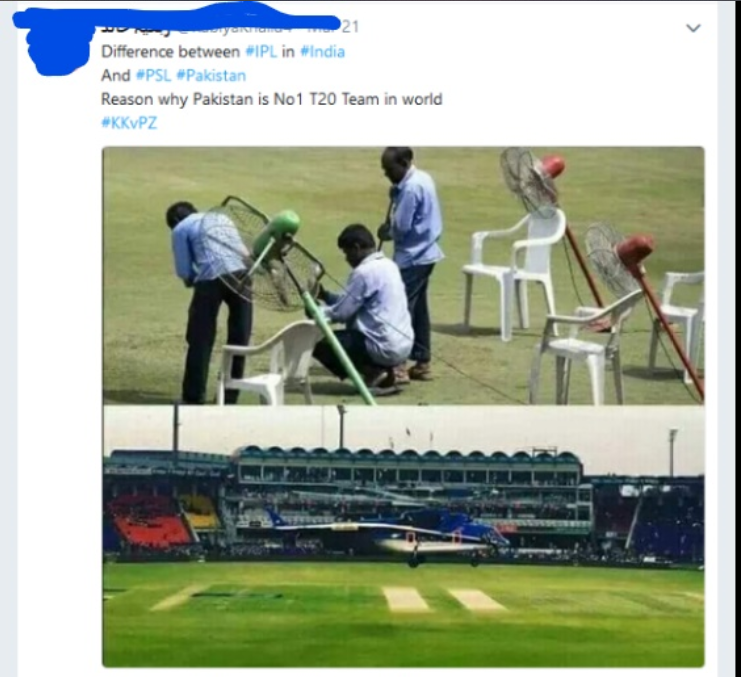 Taunting India has never got boring for Pakistani social media. Even this time too, people didn't forget to pass a comment on them. Since it was a just 3rd edition of PSL and PSL has always been on Indian critics radar then how could Pakistani people have dropped this opportunity of taunting them?
trump be like:
bs mere 33 Billions$ nahi dene, Helicopter ko pankha banaya hua hH ?#PSL #KKvPZ pic.twitter.com/DLfn0B8V4H

— Adeel Bin Safeer (@aaddimughal) March 22, 2018
Oh also, we didn't forget to make fun of President Trump too. He was too humble to keep us remember on his first ever tweet on New Year. Pakistani social media is also going to make sure not to forget him till the rest of his Presidential tenure too.
Agr abhi b Karachi walu k defeat ki waja se ansu khushk nhi hoye tu phir ek helicopter karachi b bejh dayeen kiaa ?? ??
#PSL #HBLPSL #PSL3 #PSL

— out-of-the-way (@ch_adii_amin) March 23, 2018
Pakistan Army's helicopter also took their part in helping out to dry the pitch and people on social media taunted the ones who are always trying to be against them.
This PSL 3rd Edition has been on its full swing in Pakistan both in social and electronic media and people have really enjoyed the season. It's just one more game left and some have already started missing it. It shows the love and passion of our people for cricket. We hope international cricket to be back as soon as it can be in Pakistan in its true meaning.