Prime Minister's Special Assistant on Interfaith Harmony Maulana Tahir Ashrafi on Tuesday said the government will deal with the accused involved in the Mian Channu lynching in the same manner as it did with suspects responsible for the Sialkot lynching.
A 'mentally ill' man was stoned to death by a mob over alleged desecration of the Holy Quran in Jungle Deraywala village near the small town of Tulamba in Tehsil Mian Channu on Saturday.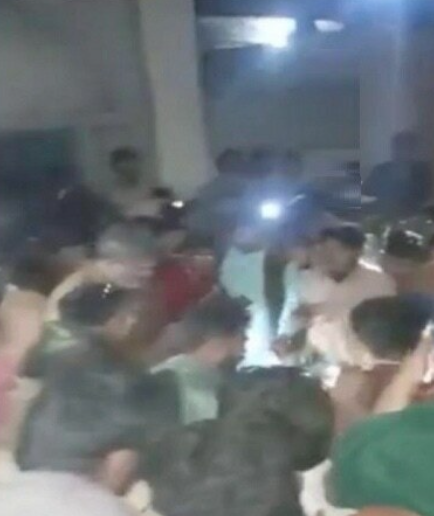 The victim was accused of entering a mosque and setting pages of the Holy Quran on fire. He was captured by two locals. Police were alerted. They reached the spot and took the man into custody.
After hearing about the burning of the Holy Quran, hundreds of other locals approached the mosque. The mob broke the doors of a room, took the man away from the police custody. The mob first hanged the victim with a tree and then hit him with bricks until he died.
A case under murder and terrorism charges were registered against 33 nominated and 200 to 300 unidentified suspects. On Monday, the police claimed to have arrested six more main suspects, and the number reached 21 out of 33 nominated suspects. The total number of the arrested suspects reached 102.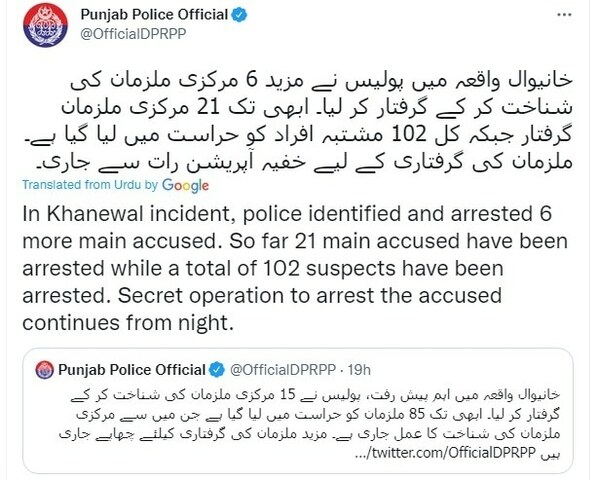 The arrested suspects could be seen in the mobile footage provoking the citizens for violence and torturing the victim with sticks and bricks.
Strict action demanded against the prepetrators
Addressing a press conference, the cleric, who also heads the Pakistan Ulema Council (PUC), said that the prime minister, Punjab chief minister, and the Punjab police chief were actively involved in the investigations.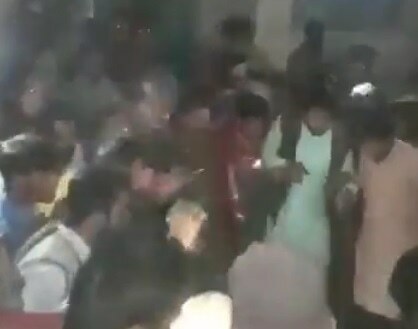 The police will produce the accused involved in the Mian Channu lynching case before an anti-terrorism court (ATC), he added. "No one will be allowed to take the law into their hand."
The Senate also on Monday expressed grave concerns over the Mian Channu mob lynching tragic incident, demanding strict action against the perpetrators. In a statement issued on Twitter on Sunday, PM Imran Khan said that mob lynching incidents will be dealt with strictly under the law.
There is a large stigma associated with blasphemy in Pakistan. In fact, even unfounded claims can spark mobs and violence. In November last year, thousands of people set a police station in Charsadda and nearby checkpoints on fire for dishonoring Holy Quran. They demanded that officers turn over a man allegedly accused of burning the Holy Quran.
The recent incident comes two months after a Sri Lankan was attacked by a mob of hundreds of people, dragged into the street of Sialkot, and set ablaze on Dec 3 over allegations of desecrating religious posters.
What do you think of this story? Let us know in the comments section below.