For all football fans, the announcement of Lionel Messi's exit was an emotional moment. Messi broke down after his farewell speech to FC Barcelona, making his departure from the club even more emotional. Surprisingly, the tissue Messi used while crying on his farewell is now on sale.
The audience of Barcelona players and media members stood and praised Messi for over a minute and a half as he stood beside the stage. The Argentine superstar could not hold back his tears.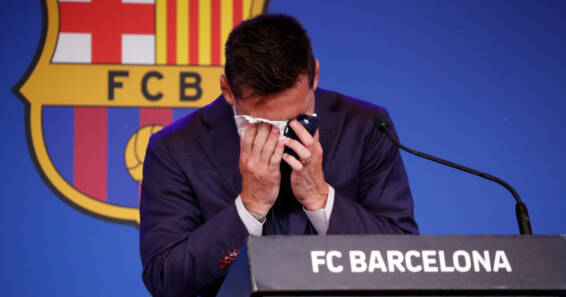 Whatever the product, Lionel Messi merchandise is selling like hotcakes right now, whether it is retro Barca jerseys or swanky PSG kits. There is however one particular work of art that seems to have caught everyone's eye recently. With a price tag of $1 million, you could imagine it is super fancy and possibly rare.
Well, not quite. Messi's used tissue from his emotional press conference is now available for $1 million. Yup, we are talking about a soggy old tissue. An international auction site has now listed the gross item for a small fortune.
There is an online advertisement for used tissue from an unknown person claiming to have collected the tissue. As reported by Complete Sports, an unnamed man was sitting in the front row of the press conference and managed to pick up Messi's tissue after he had discarded it. And now that tissue is on sale from the farewell of Messi.
It gets better…
Stumbling upon a gold mine, the man posted an advertisement on the international e-commerce website Meikeduo. He also put a hefty $1 million price tag on the tissue because allegedly it "contains Messi's genetic material". A potential buyer who has all that money to spend can then use that "genetic material" to "clone" another footballer like Messi. Yes, really, that is exactly what the seller is claiming.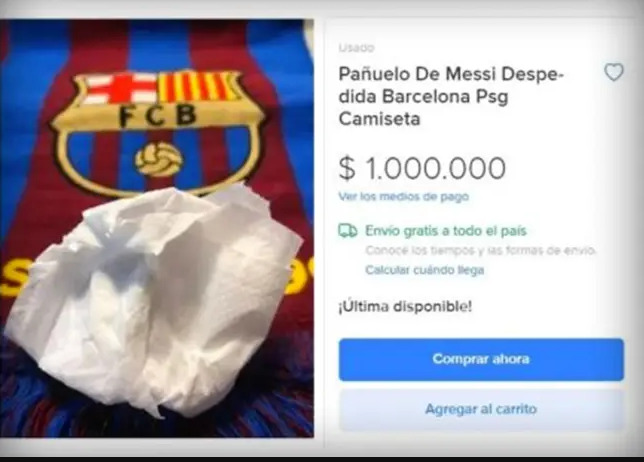 Looks like no one is willing to put their hand in their pocket considering that the ad is still live. Isn't it true that one man's trash is another man's treasure?
Barcelona recently released its official statement saying they cannot afford the 34-year-old Argentine star. Since then the whole internet has filled with Lionel Messi hashtags and fans showed their rage at Barcelona too. Messi broke into tears as he bid farewell to Barcelona.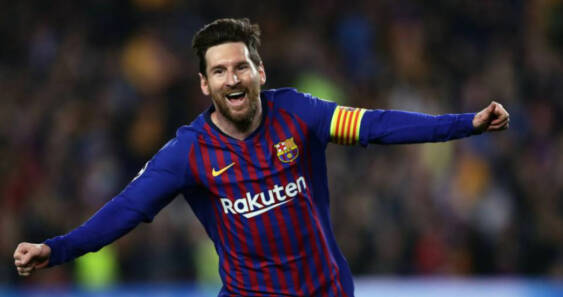 His outstanding dribbling skills and left goals have always given his fans goosebumps, and sometimes even his opponents as well. Having spent 21 years at Camp Nou, the 34-year-old said his final goodbye to the club and joined Paris Saint-Germain. Messi is likely to debut for PSG either on August 29 or on September 12, making his first appearance in front of a packed house at the Parc des Princes.
Messi has reportedly signed a two-year deal with PSG worth €35 million per season, in addition to other benefits.
What do you think of this story? Let us know in the comments section below.