Mehwish Hayat has become the queen of the Pakistani entertainment industry and it's amazing to see how she's made her recognition in such a short time span and internationally too.  Although Mehwish Hayat has been not a favorite star of many (God knows why..probably because of her good looks, lol), but Mehwish achieved what she wanted to, clearly ignoring what others thought of her.
A recent trend on Instagram and Twitter has been going viral and it seems like everyone wants to have a go at it. The challenge is to kick the bottle's cap! This trend was started by the very famous Hollywood actor Jason Statham and ever since then everybody, especially celebrities are going crazy to attempt this challenge. The Fast and Furious star Jason posted his video on Instagram with a caption that read, "This thing landed on my head from @johnmayer but will quickly go to a couple of fellas we've seen do push ups badly. All yours @guyritchie and @jmoontasri"
Read Also: Mehwish Hayat's Recent Hawt Photo Shoot Is Making People Say "Haraam"
Here's his video!
https://www.instagram.com/p/BzYT3WpBDfe
Alright, that was pretty smooth!
And right after Jason impressed everyone with his video, here's another one that left everyone speechless. Donnie Yen attempted this challenge with a blindfold. Yes, a freakin' blindfold!
https://www.instagram.com/p/BzcxeOOhRaU
Here's Mehwish Hayat's take on the #BottleCapChallenge!
https://www.instagram.com/p/BzgNIVcHNnt/
 Okay. WOW. That was NEAT.
Here's how people reacted to it
Unacceptable!
Disgraceful!
I smell something burninnngg!!
Jo aap nahi banna chahti 😛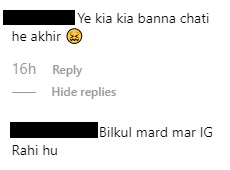 But then, there were some who were completely blown away by her skills!
https://twitter.com/2103Chandra/status/1146863621105995776
Hell yeah!
Female version of Jason Statham ?

— Amjad Malik (@AmjadMalik786) July 4, 2019
She really is!
Awww talented

— Arooﺝ SiddiqUi ?? (@Aroojsidd) July 4, 2019
Well, it's pretty evident that nothing in the world can stop this diva and Mehwish never ceases to amaze us! We love her acting, we love her singing and we now love her flying kicks, ha!
Mehwish, keep shining like a star and stay the queen you are!