Islamic banking in Pakistan has completed more than a decade of operations in Pakistan. Recently, one of the leading banks in Pakistan refused a potential customer from opening his account just because his profession seemed to be 'un-Islamic' to them.
While some Muslims have absolute faith in Islamic banks, many others question various aspects of the present-day Islamic financial products and services. These people are not against the concept of Islamic finance. However, they refuse to accept the absurd conditions that these banks put forward.
Recently, a Facebook user shared his experience of how the Meezan Bank Limited refused to open his bank account because of his profession. Taking to a Facebook group by the name of 'Voice Of Customer', the user shared that he went to one of its branches, to open a salary account.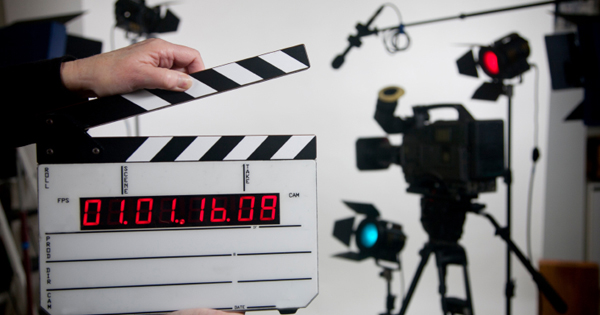 Upon mentioning that he is a teacher in filmmaking, the manager excused him and refused to open his account. The reason being, "You are a filmmaker, and our Shariah Board would object on your credibility as in Islamic perspective."
At first, the man shares that he thought the manager was joking. So he laughed, but then asked him if he was being serious. To this, the manager replied, "Gee, sir." He was quite shocked to hear that and left the bank.
Who makes the ads for these 'Islamic Banks'?
On second thought, he decided to go back inside and talk to him. So he went back, and asked, "Sir jee, I wanted to ask if Meezan Bank Limited's advertisement and Shariah Board's documentaries are made by Maulana Taqi Usmani himself, or a filmmaker, a sinner like me?"
As expected, the manager was left speechless, and so, the man left. At the end of his post, the user writes, "I sometimes think about the kind of ignorant people that live in this country, yet we blame the country leaders for all the wrongdoings."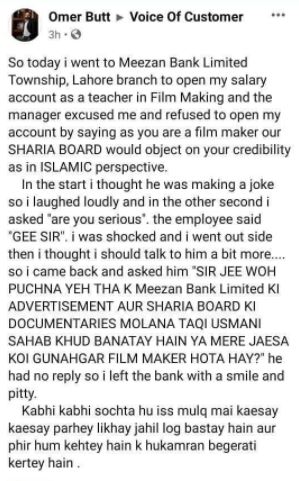 Later, in the following post, the man shared how he received a call from the bank. They called him back and generated his account number. In addition, they promised him that their Shariah Board would not have any objections to his account credibility.
He further added that the checkbook and the ATM card will be delivered within a week. Surely, social media really has some unmatched voice!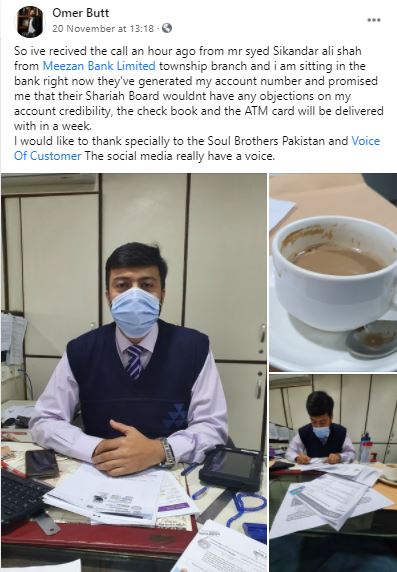 When we talk about Islamic banks, it is obvious that they follow Shariah. Both are a unity that cannot be separated. However, that being said, Islamic banks are not completely related to religious rituals.
A woman exposed how right after she opened a bank account there, an employee began harassing her over the phone.
Earlier this month, another local bank, in a new dress code, made it compulsory for female employees to wear 'hijab' and 'loose-fitting dress'. Whereas, in the same bank, an employee was caught groping a woman.
What do you think of this story? Let us know in the comments section below!