We wouldn't be too far off-track if we were to assume that the year 2017 was one of several proud moments. Education is the one thing people, despite their financial backgrounds, give the utmost importance to. If you have the right mix of knowledge and courage, what isn't possible for you? Tahira Muhammed helped us see just how.
Education Is Sustenance
While in the past, people believed that education was a luxury, it is now considered to be the most vital element of a kid's life. No parent in their right mind can sleep peacefully knowing they do not have enough money to pay the fees of their kids so that they may sit in their exams at school. Think of what must happen to those that can't afford to go to school at all, say, the daughter of a woman who is a maid by profession?
Meet The Teenager That Rose Against The Odds
It is quite normal to let the circumstances get the better of you but that was hardly the case for 17-year old Tahira Muhammed of Mingora Swat and her mother.
We more proud to hear what this young girl ended up doing than we were surprised.
Tahira accompanies her mother as she goes to clean houses as a maid so that she may earn and save enough money to educate her daughter in the absence of her father who passed away 15 years ago. Despite her mother being forced to remarry another man after the death of her first husband, things didn't look up which is what made both Tahira and her mother start working as house helpers to earn their daily bread.
Tahira's mom is solely responsible for earning the bread in the house but Tahira is not the kind of kid that lets an opportunity worth a lifetime pass her by.
So what if her mother is a maid? Does that mean that the same future is in store for Tahira? No.
Happiness Is In Doing What You Love
Tahira learned from the people that her mother cleaned for. They are the ones that realized Tahira's love for education and enrolled her in a school so that she may explore her mind. Tahira saw technology, computers, desktops and laptops and she knew in her heart that that is the line of work she needs to be pursuing and that is precisely what she set out to do.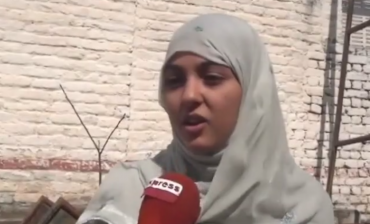 Respectfully aware of the boundaries she could not cross in her mother's employer's house, Tahira absorbed all the knowledge she could. And then pursued an academic career in the field of Computer Science. She is in 12th grade currently and is one of the youngest people in Pakistan to win a software challenge that was held on an online site called TechJuice.
Tahira Muhammad, Social Activist – TechJuice https://t.co/Qcm2vprIgk via @techjuicepk

— Thank you #Misbah (@SaimaKarim89) March 28, 2017
Tahira Gives All The Credit To Her Ammi
Upon winning, Tahira dedicated all of her success to her mother. She realizes that she would not be able to reach the winning tide if it wasn't for her mother that raised Tahira all by herself without any help from anyone else.
"Iss se mujhay bohat zyaada hosla mila hai. Aur iss muqaam per jo main pohanchi hoon, tou sirf apni ammi ki wajah se", says Tahira.
There Is Hope For All
Tahira wants to be a software engineer when she grows up. Seeing her story has inspired us to believe that it is not your circumstances that define you but rather your will to change the path that you have been set out on. Tahira Muhammed is proof of it. She is singularly responsible for bridging the gap between the girls of a small village called Swat and technology.
She shows us that there is nothing out of your reach if only you have the mind to go the extra mile.