Mountaineer Sirbaz Khan on Friday became the first Pakistani to climb nine of the world's 14 highest peaks, each more than 8,000 meters high after he scaled the 8,167-metre-high Dhaulagiri mountain in Nepal.
Khan was a part of the 19-member 'SST-Dhaulagiri I Expd. 2021 Autumn' expedition organized by Seven Summits Trek. Located in the Himalayan mountains, Dhaulagiri is known for its steep sides and cold climate, which make it one of the most difficult peaks to conquer.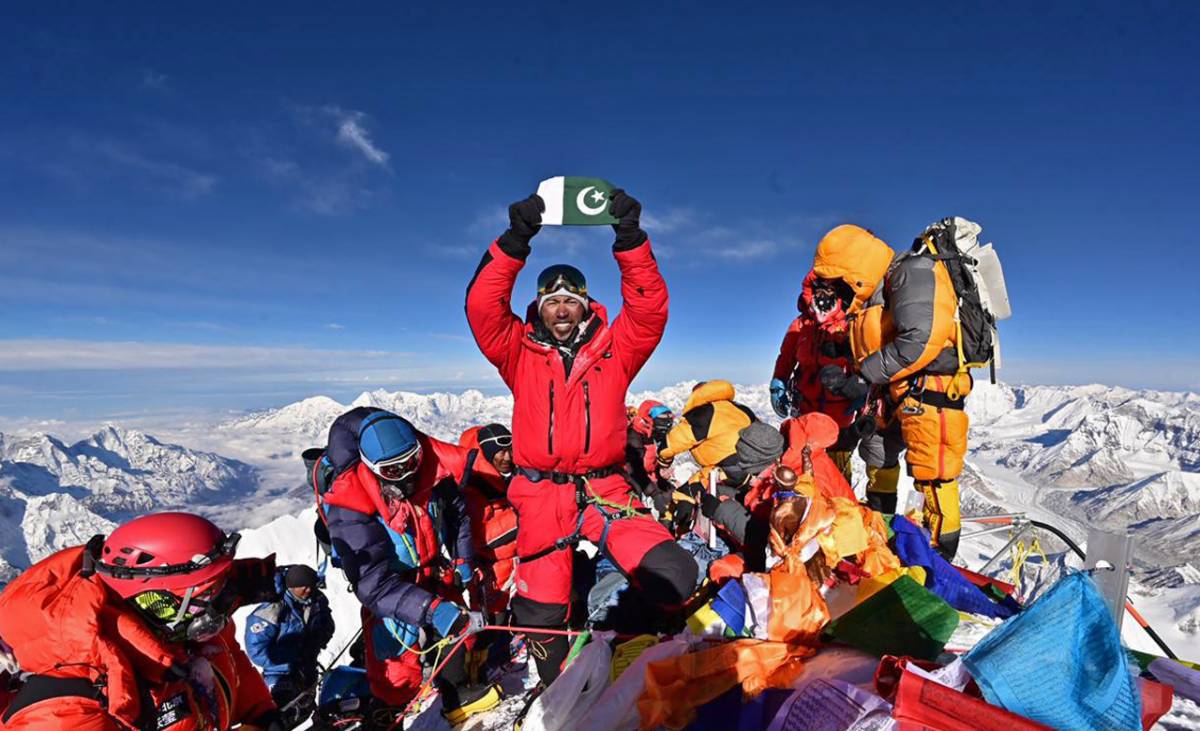 According to Seven Summit Trek officials, the climbers summited the world's seventh highest peak on Friday morning. Pakistan's national flag was raised by Khan after reaching the peak of the mountain.
Who is Sirbaz Khan?
Khan, 32, hails from the Aliabad area of Hunza in Gilgit-Baltistan. He began his climbing career in 2016. Khan aims to become the first Pakistani to climb all 14 of the world's highest peaks.
In 2019, he became the first Pakistani to summit Mount Lhotse, the world's fourth-highest mountain at 8,516m in Nepal, without the use of supplementary oxygen.
Aside from that, in 2017, he summited Nanga Parbat at 8,125 meters, in 2018, the 8,611 meters high K-2, and in 2019, Broad Peak at 8,163 meters. His achievements also include climbing the 8,091-metre-high Anapurna Mountain, climbing the 8,848-metre-high Everest, and climbing the 8,035-metre-high Gasherbrum II mountain earlier this year.
During four of these expeditions, he was accompanied by the late Muhammad Ali Sadpara.
Before embarking on his Dhaulagiri summit expedition earlier this month, he had said, "I am looking forward to his expedition and reaching closer to the dream of my mentor Ali Sadpara, who had the similar dream of scaling the 14 highest peaks, but tragically lost his life earlier this year during a winter expedition on K-2".
Congratulations pour in for Sirbaz Khan as he achieves the feat
Khan's achievement was announced and congratulated by the Alpine Club of Pakistan on its Twitter account.
Sajid Ali Sadpara, the son of legendary mountaineer late Mohammad Ali Sadpara and a climber himself, also congratulated Khan. "Lots of congratulations to Sirbaz Khan to climb Dhaulagiri," he tweeted. "After climbing Daulaghiri he is the first Pakistani to summit nine 8000 mountains."
We also extend our heartiest congratulations to Khan!
Shehroze Kashif, another mountaineer from Pakistan, also recently made the country proud with his latest achievement. The 19-year-old became Pakistan's youngest mountaineer to climb Manaslu, the eighth highest peak in the world on Sept 25.
Hailing from Lahore, Kashif is the youngest Pakistani to have climbed Broad Peak (8,047m) at the age of 17. He used supplemental oxygen on his climbs to Broad Peak and Everest. His expedition to Broad Peak earned him the title "The Broad Boy".
What do you think of this story? Let us know in the comments section below.