Congratulations to our bubbly Nadia Khan for tying the knot with her handsome husband in an intimate wedding ceremony. She recently shared beautiful pictures from her big day, and the Internet since then just cannot stop showering love and prayers on her.
The popular television host took to social media to share the news last Saturday. She also asked her fans and followers on Instagram to wait for the official pictures.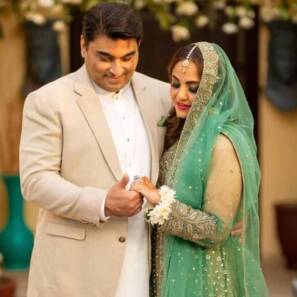 Later, Nadia Khan released her complete wedding album with handsome husband on YouTube. And, let us say, the bride looked lovely in a sea-green ensemble. Her glowy makeup and a bright pink lip were cherries on top.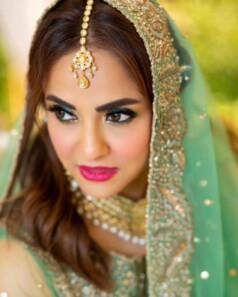 Who is the lucky man?
Sharing details about her husband, Khan shared on Instagram that her husband is Wing Commander Faisal Mumtaz Rao. He is a retired PAF officer and fighter pilot.
"Born in Lahore in 1970, Faisal joined Pakistan Air Force as a commissioned officer in the 90th GDP course back in 1991. He is known to be one of the most competent and distinguished pilots with 30 years of Flying and Management experience with leading air forces of the world," she added.
"Faisal has over 4000 flying hours on Mirage, F-7, Hawk Grob, T-37, Cessna, and other aircraft. Apart from that, he has topped all the major training courses both in Pakistan and the UAE. He retired from the Pakistan Air Force as Wing Commander in 2009 after serving for 18 years and joined the UAE Air Force first as Instructor Pilot and then as Chief of Safety."
Meanwhile, Khan also said, "Faisal is not new to media since he was featured in ISPR's song Hawa ka Sipahi by Najam Sheraz." Faisal is the eldest of four brothers.
'Kiaan is my adopted son & this is my second marriage,' says Nadia Khan
While many believe that it is Khan's third marriage. However, replying to comment under her post, the actor clarified that it is her second marriage.
"Kiaan is my adopted son and this is my second marriage," wrote Nadia.

Here's Nadia Khan's wedding video. Enjoy!
"Requesting everyone to be very generous and kind on commenting about my husband Wing Commander Faisal Mumtaz Rao (Retd) as he has been a fighter pilot in our prestigious Air Force and deserves immense respect like all the other brave officers of Pakistan forces," Khan wrote in the description of the video as a formal introduction to him. While her daughter Alizeh also looked super cute.
With close to a million subscribers, Khan is known for her acting, DIY hacks, and tips on social media. Her weight loss journey inspired many a couple of years ago. We wish you all the best in your new life, Nadia!
What do you think of this story? Let us know in the comments section below.