Nabila Abbas is from a remote area of Pakistan, from a small tribe, where people were endowed with a dismal fate. Nabila says there was no education, awareness, technology, facility, no advancements, modern ways of life, or freedoms.
As a girl in this environment, she found it terrifically challenging to dream for anything. Her surroundings oppressed the flourishing of ideas and the struggle to live consumed daily life. How would one dream for anything more? She spoke with SLP 9 Service-Learning Project) from her home in a remote area of Pakistan. Growing up in a conservative tribal area, Nabila found it challenging, but essential, to break out of the limited role offered to girls in her community. With the support of her parents, Nabila has become a fierce advocate for girls, education, and rural development in Pakistan.
She is also an alumna at the University of Management and Technology, Lahore. She has passed out with her bachelor's degree in 2019 from the Institute of Aviation studies from UMT. She is 23 years old now. She has born in a very dismal area where there is no education, no health systems, no technology as far as we're concerned, this NO is still endowing to her area.
Living in an illiterate society (which she believes isn't their fault as they are depriving of their basic rights and facilities) and raising up being unwanted girl child by society, she always had a dream to attain higher education.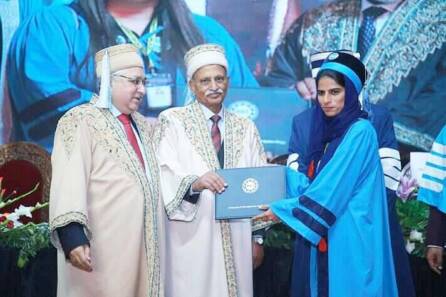 Since her early teenage, she couldn't have even understood the true meaning of education or its role in people's lives. The girls in her town are only expected to get early marriage and that's it. She never wanted this future. She never wanted either to spoil her future staying quiet. She said NO to these norms. Up in the sky, she always used to look in the airplanes flying high. It hit her head with curiosity and later She came to know how humans can even fly if they have knowledge and education. Since her childhood, she always used to write a tagline; she was born to fly. That was her determination since childhood to attain education.
Nabila Broke all the way through the Darkness and Embrace a Light of hope inside of her
She started studying at her father's nonprofit school (Tahir Model High School Choti Zareen) which is the only school in her town at that time. She pursued her primary and then secondary education from there. Connecting herself to education has started changing her life and opinions. It has enabled her to think out of the box. But at the same time, she also kept pushing her friends and fellows to go for education or to go to schools. Most parents don't send girls to school in rural areas.
Later, she shifted with her parents to a small town for her college studies. She'd always been a brilliant student who is always committed to both studies and extracurricular activities. Even though her primary education was from a very small school in a village but she didn't give up on competing with the urban students at the city level. She started getting A grades in her college. She started improving both English and the curriculum.
Even in this small city, girls were only supposed to go for studies and then come back home. They were not permitted to take part in sports activities. She broke this norm and initiated to go for sports. She with her friends arranged a group for girls to play sports. She managed to go playing at the national level in different games like race, high jumping, etc. She believes she always wanted to see girls empowered and this is how she has always been a changemaker for her fellows too.
After her college life, it was time to take bachelor's degrees, she opted for something different that's an aviation management degree. For this, she'd to go to a big city and again she'd to fight all barriers of culture, language, and societal norms. She couldn't even have bus fare to pay for the city. Her parents again supported her and she became able to get a bachelor's degree from one of the well-known Universities in Pakistan that's the University of management and technology, Lahore.
In university, she initiated a trend for extracurricular activities in the field of aviation. She started with initially 5- 10 students and then end up with 500 new leaders through this forum called " Aviation Literary forum" where the focus was to build a connection among rural and urban students so that we can break social cohesion.
Currently Nabila Abbas is Selected by the Government of Pakistan as Youth Member
Currently, Nabila Abbas is selected by the government of Pakistan as a youth member in 'National Youth Council' under patron prime minister Imran Khan, chair by Usman Dar, Kamyab Jawan.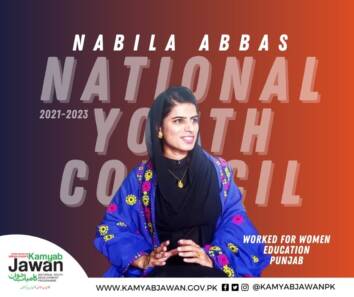 Affiliated Projects/Organizations
This is how she started with her personal story of acquiring educational dream and now she is working with various international organizations (including the International Congress of Youth Voices USA, The global human projects, The conversationalist, the global network of young politicians, the international youth development society, the youth for Pakistan, National Youth Assembly, Dream Equal, Zero Hour, the International association of women developments and rights, UN, the royal commonwealth society the UK, Our Agenda by Argentina, YUC- Youth Under Construction by Guatemala, Global youth engagement program in collaboration with Penn state university and the Club of Rome.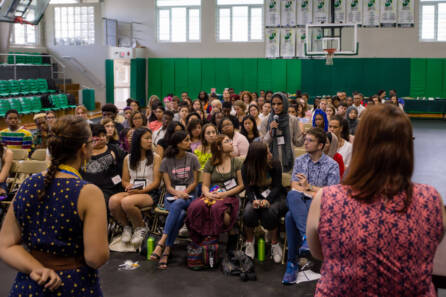 Her mission is to implement educational reforms in rural areas, fight for gender equality, raising a voice for human rights, empowering women, and challenging political reform awareness. Her only agenda is to work for people living under privilege. She is committed to various National and International organizations where she is intended to work for more innovative and creative solutions to implement educational reforms.
Projects Done/Ongoing:
Free education for all (Providing access to education for the underprivileged girls), RDI Rural Developments Initiative, Computer Lab at Rural schools (1 project is done implemented), rural health standards, health care units.
Core SDGs Working on:
Good health (3) Quality of education (4), Gender Equality (5), Innovation & Infrastructure (9) Reduced Inequalities (10), Peace & Justice (16), Partnership for the Goals (17).
Achievements
She has the privileged of being the youngest speaker at the UN assembly to bring the very first initiative of rural developments on the dice. Acknowledging all this social and humanitarian work, she is awarded "The Diana Award 2020" which is a highly honorary award for young people around the globe bringing positive change in this world.
Also, she is awarded "Top 40 Young Aviation professional under 40" by the National Business Aviation Association Washington DC, " Excellence Award" by the Commonwealth people's friendship association, C' Level Executive Award 2020 by the University of management and technology, and "International Leading Youth Award" by Make me Elegant foundation. She takes all these achievements as a result of prayers and the immense support of her parents, teachers, University, and above all the Almighty Allah is obviously merciful on her.
"I leave behind a very beautiful message to all my youth; you people have an extra energy and passion to change this world. Take your that positive energies out for the right things at right time. Nabila Abbas
What do you think of this story? Let us know in the comments section below.