Every day, we see and hear stories of women who struggle to provide the best for their families and children. They go to great lengths to provide them with comfort and happiness. This is the story of one headstrong, determined widow, Jameela Khatoon who does not give up in the face of challenges, fixes motorcycles. 
Jameela Khatoon grasps a wrench and crouches down beside the motorcycle as she inspects it. The woman works on engine bolts seemingly oblivious to the hubbub around Ranchore Line's Poonabhai Tower.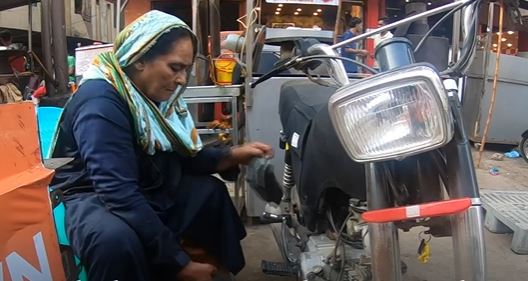 Despite struggling to make ends meet, the widow, Jameela Khatoon is determined to earn an honest living by selling motorcycle engine oil and changing the oil of her customers' motorcycles and other fixes. Near the popular Lakhpati Hotel, she sets up shop. The setup is not much larger than a typical limca stand.
Having done this for the past 35 years, she takes pride in her work. According to Jameela Khatoon, her business is the only enduring legacy of her deceased husband. She had become the sole breadwinner of her house after her adopted son died of cancer.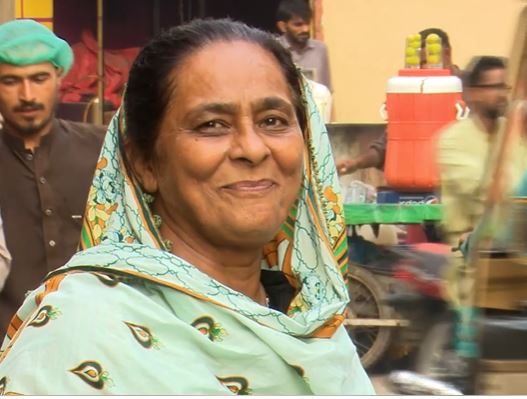 At home, she has quite a few mouths to feed. The widow of her adopted son and her four grandchildren are among Jameela Khatoon's responsibilities. She says she has never taken a break, not even when the coronavirus lockdown was in place.
When she had workers working for her, life was easier. She now opens her shop at 10:30-11:00 am and works until midnight. Moreover, Jameela Khatoon says people who come by to get their motorcycles serviced are always respectful to her.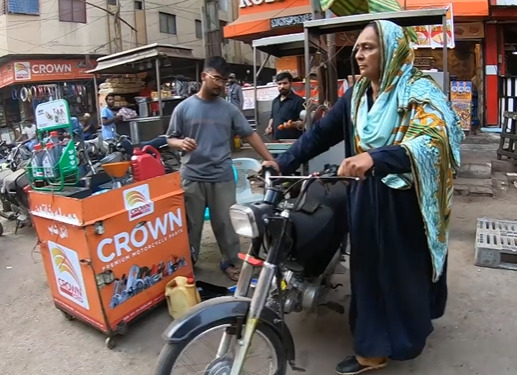 Adding oil to motorcycle engines, changing oil, and servicing motorcycle engines are all tasks she takes on herself. Her grandson helps out when necessary, but she does the difficult work by herself.
Have a look at her interview
While Jameela Khatoon has been fortunate enough to be respected by her customers, women choosing menial jobs are rarely treated kindly in our society. Instead of supporting, and respecting them for trying their best to run the stoves of their houses with dignity and respect, people make sure to give them a hard time.
The same happens with the woman who sells food from her Suzuki stall near Guru Mandir Chowrangi. A brave woman struck by poverty runs a burger and shawarma stall at the side of a street to support her house.
However, people make it really hard for her to make a living. "It is very hard for women to get out on the streets in this society," she says. This particular story is uplifting and infuriating at the same time.
There are many examples of brave women who stay determined to not surrender in the face of difficulties. Another courageous woman sells lunchboxes with a toddler beside her to help her husband in running the family.
Story Courtesy: BBC News
What do you think of this story? Let us know in the comments section below.