In this hard time when Pakistan drowning in floods, the rain has destroyed so many houses and damaged fertile lands. People have come together to help out those needy people who are in great need and collect donations for relief.
Celebrities and political parties have joined hands together to help them. Among that veteran actor, Meera who is currently in New York decided to use her exceptional skills and talent for good use.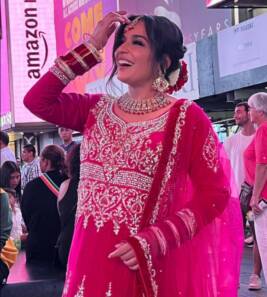 She set the stage at Times Square where she performed and requested viewers to raise money for victims.
She shared clips of her dancing and captioned some great words that grabbed everyone's attention.
Meera dancing at Times Square to help flood victims
Meera chose a different way to raise the funds for flood relief and created the world with the intention of destruction happening in multiple parts of Pakistan currently.
She posted videos of her dancing snippets and stated that she's ready to perform anywhere in the world "as long as at least one bereaved family is able to have a roof over their heads."
Meera was being all herself, dressed in gorgeous bright pink gharara and long kurta with heavy silver embroidery, the star explained the purpose of her performance to followers on Instagram.
"Today I performed in New York to raise money for flood victims. My sincere request to Muslims everywhere is as follows:
Please let's join hands and work towards this jointly. Let's just open our hearts and homes to the families of flood victims. Together, we can accomplish anything. Let's not belittle those that ask for assistance. Together, we can."
Meera has always been living under the shadow of controversy, earlier this year the court announced that she's lawful wife of Attiqur Rehman despite her constant denial.
'I am willing to perform for flood victims' – Meera
Meera realized her responsibility and she further added. "Being an artist and the most sensitive element of society, I am willing to perform for flood victims anywhere in the world as long as at least one bereaved family is able to have a roof over their heads.
I am grateful to the dignified chief organizer Ayesha Ali and all the other organizers of the Brooklyn fundraising event for the special invitation and for providing me with the opportunity to participate in this noble cause."
In a separate post, she gave a huge shout-out to ex-Prime Minister Imran Khan's telethon, an international fundraising event for flood affectees. "Imran khan is going to raise funds for the flood victims via telethon shortly. I request all of my fans to come forward and support the great cause," she wrote.
Apart from Meera, other celebrities like Shehzad Roy, Faysal Quraishi, Humayun Saeed, and Sarwat Gilani among others are using their platforms to raise awareness and share authentic sources to donate to the victims of floods in the country.
What do you think of the story? Tell us in the comments section below.