On numerous occasions, Pakistanis have advocated how the international media shows a blind eye when it comes to the events which are currently happening in the world, with one being the tragedies in Syria. However, it seems that even the local media is in the same boat, given how a horrible recent tragedy which went unnoticed. While the government corruption deserves every right to be flooding the news channels, who will shed light on the matters which happen in the private sector?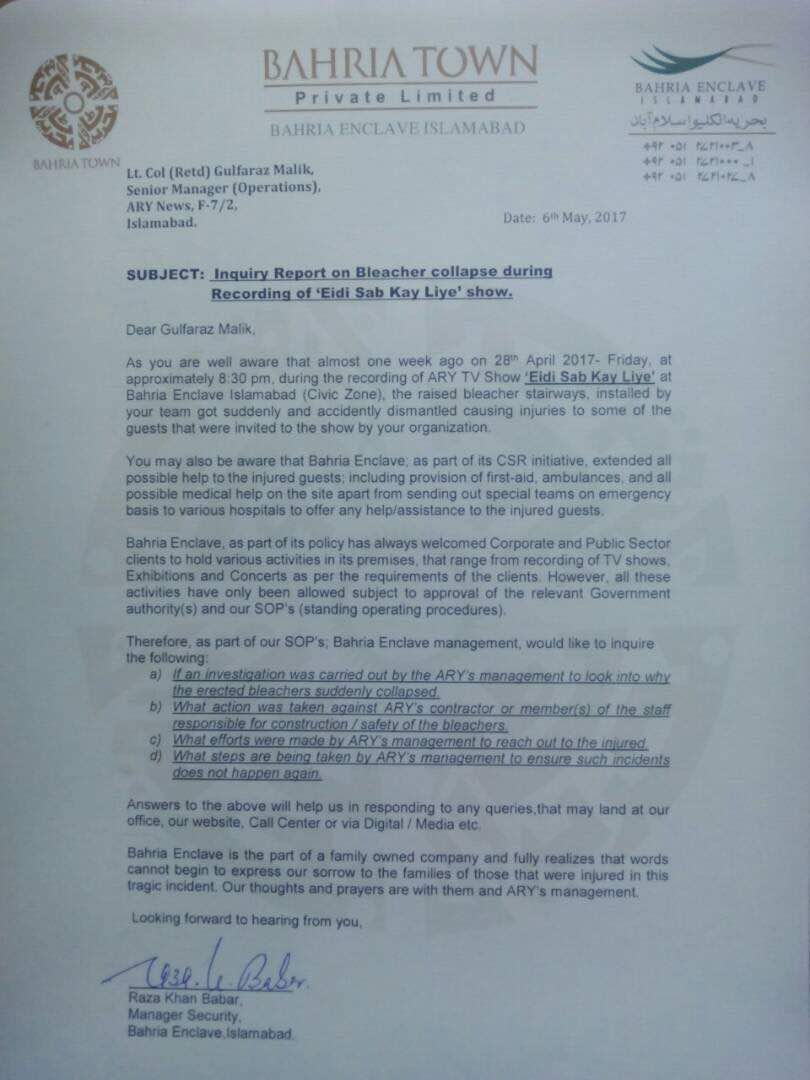 Recently, causing various casualties and over 100 injuries, the incident of Islamabad's Bahria Towns Enclave went unreported.
Graphic video of disaster which followed as stage fell at #AryZindagi event Bahria Enclave 28 April. Several injured. Media silence criminal pic.twitter.com/HmsfdCGNzk

— M. Jibran Nasir (@MJibranNasir) May 6, 2017
In a show called Eidi Sab Kay Liye organized by ARY Zindagy, due to poor management and lack of sturdy material, the stage collapsed. According to the sources, there were many in the audience who mentioned to management how the sitting arrangement is shaky and didn't seem strong enough to withhold the weight. However, the management ignored and thus, led to this horrible event which caused a lot of human damage.
Collapsing from the height of almost 2 and a half floors, the damage caused to the audience is immense.
30+ died 150+ injured when stage fell during the recording of "Eidi saab ke liay by Fiza Ali" (Ary News) in Bahria Enclave Islamabad.

— Ahad Abbasi. (@_ErrorGuy) May 6, 2017
As per various public figures and other media outlets, due to the agreements between ARY and Bahria Town, this incident went unnoticed and neither of the two parties has made any statement regarding the horrible event.
Still no verified news on media about bahria enclave incident. People reporting even deaths… how incredibly dishonest is that of media?

— پکھی واس (@barooq) May 7, 2017
So, who is to blamed for this horrible incident? Who should be held accountable? The management failed to provide proper arrangements and risked the lives of hundreds. And when the stage collapsed, they didn't provide help and support to the injured. The horrifying incident that took away so many lives, is anyone ever going to cover it. What's our media doing? What role do they have here?
"Eidi sabke liye" hosted by Fiza Ali
Sneak peek of what the "Eidi" was!
Lifafa journos disguised as saints buried news#ARY #BahriaEnclave pic.twitter.com/yOnwhVKavB

— Mona Alam (@MonaAlamm) May 7, 2017
While the media and other associated authorities failed to report, it surely proves how in another time of need, we failed as a nation.