Karachi's miseries continue a day after record torrential rains. Rains in Sindh have always been a debatable topic every year. Every year, monsoon season opens up a pandora box of the carelessness of the provincial government. However, even in this adversity, people in Karachi have always something to cheer about.
A young mechanic in Karachi aka Chotu Ustaad Mechanic is winning the hearts of people all across Pakistan. His real name is not known though.
Motorcycles of many people in Karachi got stuck in the middle of the roads due to heavy rainfall. It is a usual scene during rains. However, to help the stranded Karachiites get back to their homes safely, this young hero repaired their motorcycles for free.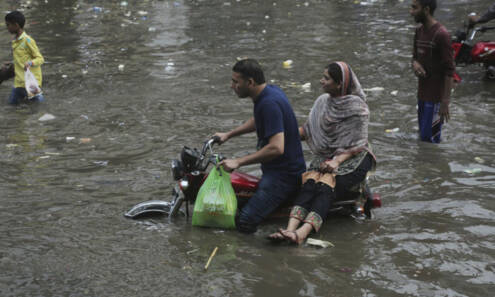 A Pakistani man by the name of Shayan Khan shared his experience of how this young boy repaired his motorcycle for free.
"I must say the only thing that makes me satisfy being a karachiite is that the citizens here try to help here when you are in need. They help with you such sincerity that they actually win your heart. I would refer to the guy in this picture as #Chotuustaadmechanic as I don't know his name," he said in his Facebook post.
"For the first time ever, I have seen with my own eyes that literally for the first time ever mechanics were repairing bikes of individuals for free. I hope Allah helps such individuals."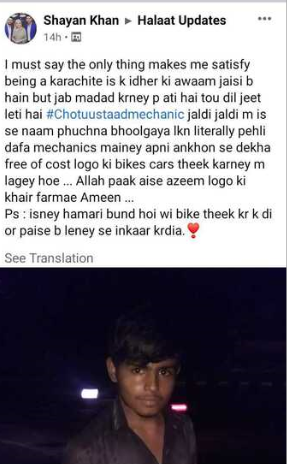 Source: Facebook
Rainfall creates havoc in Karachi
The entire city witnessed rainfall with scattered periods of light to moderate showers. Main and adjoining roads in areas of Malir, Airport, Gulshan-e Iqbal, Gulistan-e-Jauhar Shah Faisal Colony, Federal B Area, Mehmoodabad, Akhtar Colony, DHA, Clifton, and others were full of rainwater. 
The situation of Karachi puts a serious question mark on the performance of the Sindh government. Currently, the city of Karachi is going through misery.
The world knows how Pakistanis react in the face of a laborious situation. They work as a team and help each other. People like Chotu Ustaad Mechanic make Karachi the city of lights. Helping each other no matter what is something that makes this city unique. The citizens of Karachi know how to live to the fullest even in the most crucial times.
What do you think of this story? Let us know in the comments section below!