Disclaimer*: The articles shared under 'Your Voice' section are sent to us by contributors and we neither confirm nor deny the authenticity of any facts stated below. Parhlo will not be liable for any false, inaccurate, inappropriate or incomplete information presented on the website. Read our disclaimer.
Recently, a list was revealed about how Karachi is the 'sweet spot' or let's say a paradise for robbers, snatchers and what not but this story is about snatchers – that are not much into cell phones, gadgets, and other valuables. Because; maybe their love for flesh is more than anything else.
Yes, here's a group of robbers active in Karachi that are more into snatching/robbing meat and it wouldn't be wrong to term it as a 'meaty' business, for sure.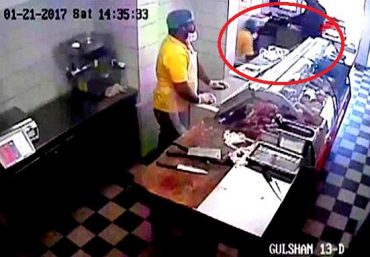 According to reports, there is a group of armed robbers that is formed of storming into various meat shops to snatch money with some meat chunks per their choice.
Recently, this group of 'meaty' robbers rammed into this popular meat store located in the famous Block 13-D of Gulshan-e-Iqbal, where they demanded the storekeeper to parcel some 'favorite and premium meat cuts' for them along with money.
The robbers, were intelligent enough to hide their faces, as they were wearing helmets but the photograph taken from CCTV footage clearly shows how the robber is looting the cashier inside the shop as the other shopkeeper is watching the scene, helplessly.
Despite the CCTV footages going viral on social and mainstream media, no suspect has been arrested yet.
If we go more into the details, last year in 2016, over 29 meat shops were robbed including 24 branches of the same meat chain in Karachi.
The process of 'meat snatching' involves the armed robbers, first asking the cashier to hand them the cash and once; he is done with that, they ask them to handover the best cuts of bovine/mutton meat along.
Previously, such cases have been reported in notable areas such as Nazimabad, Gulshan-e-Iqbal, Azizabad, DHA, Clifton and Gulistan-e-Johar respectively.