McDonald's is a household franchise name all around the globe. It is also one of the most famous fast food franchise in Pakistan. Pakistanis love those beefy, juicy Big Mac's advertisements which make them crave to have on at once.
However, this time, McDonald's print Ad for an open kitchen tour registration has left everyone quite confused.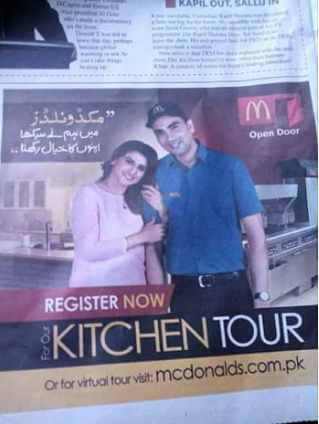 This print ad depicts an employee dressed in a McDonald's uniform along with a woman who seems like a customer. What leaves a question mark in audience's minds is why a female customer is standing in such a close proximity with an employee. The users of Social Media have been questioning McDonald's advertising strategies ever since this ad came out.
#EpicFail what sort of tour is #McDonalds #Pakistan advertising, totally inappropriate pic.twitter.com/rVJSZIoY1e

— Hamad Kafeel (@Hamadkafeel) May 7, 2017
This tweet exactly portrays why the audience is finding this ad inappropriate.
McDonald's ad has been making headlines all over Facebook as well. This post shows that people are trying to figure out if these two people are somehow related to each other.
Clearly, the viewers have misinterpreted the idea of this ad but who is to be blamed, the McDonald's advertising team or the audience?
If you see the audio-visual ad that has been coming across on our TV screens, you'll get the idea that actually these two people shown in the ad are husband and wife. However, they failed to portray the relation between the two in the print ad!
Well, we wish that next time McDonald's advertising team would be a little more particular.