Mathira has always been one of the bravest and most vocalist people when it comes to speaking up regarding injustice.
But this time she comes with a different point of view on a recent viral video that grabbed everyone's attention all over social media.
Recently Rabia Anum left the morning show and everyone appreciated her move. Even celebrities also applauded her for standing against domestic violence.
However, Mathira has got some other views on the incident and she shared her publicly.
Mathira Speaks Up On Rabia Anum's Walk Out
Yesterday, famous anchor Rabia Anum left Nida Yasir's show because Mohsin Abbas was also invited and she didn't know about it.
On that Mathira shared her views and didn't like her act the way she humiliated Mohsin. Mathira highlighted how people should get a chance to change themselves and not receive public humiliation for a mistake they made years ago. She noted, "This is so wrong, people should be given a chance to change."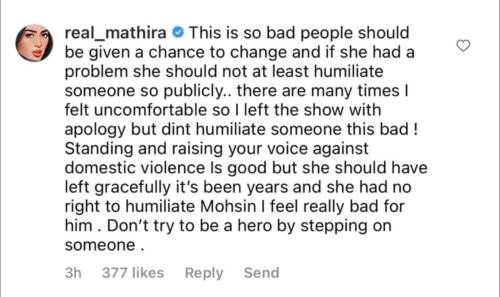 She further expressed that public humiliation was not the answer at all. Presenting herself as an example, the model also pointed out how she would have "never humiliated anyone this way" and has left shows too after feeling "uncomfortable." "If she had a problem, she should not humiliate someone so publically.
There are times I felt uncomfortable and left the show by apologizing, but never humiliated anyone this way!" she added.
I Felt Bad For Him
Mathira later cleared the air that, she does appreciate standing against domestic violence, but Anum "should have left gracefully." She wrote, "Standing and raising your voice against domestic violence is a great thing, but she should have left gracefully."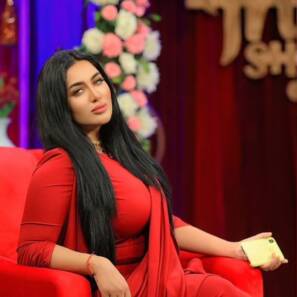 She also showed her support for the Siyani actor. She said, "It's been years and she has no right to humiliate Mohsin, I feel really bad for him."
She concluded with a strong statement, "Try not to be a hero by stepping on someone."
What do you think of the story? Tell us in the comments section below.