Maryam Nawaz is one of the most prominent politicians in Pakistan. Recently, the daughter of ousted prime minister Nawaz Sharif got punched. Reportedly, the punch incident happened after Maryam Nawaz came out of the Islamabad High Court (IHC) for a hearing of an appeal against her conviction in the Avenfield property reference.
Maryam was born on October 28, 1973. She became more active in politics after the dismissal of her father Mian Mohammad Nawaz Sharif as PM.
In a viral video, a throng of people gathered around Maryam and her husband Captain Safdar on Wednesday. Apparently, the followers of the Pakistan Muslim League (N) were chanting, "Mian Tere Jan Nisar. Beshumar. Beshumar."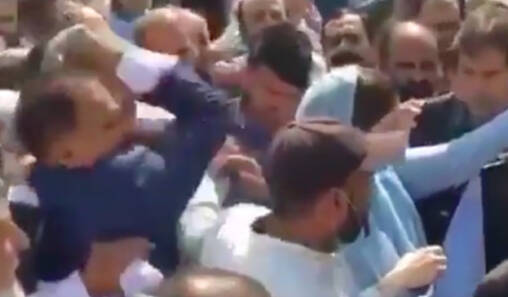 However, the bunch of PML-N workers gathered around Maryam and tried to mingle up with her. During this, her guards tried to protect Maryam. Nevertheless, in this chaos reportedly one of Maryam Nawaz's guards punched her from the back in Islamabad.
Consequently, Maryam shrieked. After her scream people got stabled. Moreover, her husband Captain Safdar soothed her after the punch.
Furthermore, Captain Safdar became furious and pushed the people assembled around them. He even pushed the security guys.
Evidently, Maryam did not find the clue of who punched her. However, the video from Independent Urdu reveals the guy.
The infamous Avenfield case
As per reports, Maryam and her husband were in Islamabad High court for their petition against the sentence in the Avenfield case.
A two-member bench consisting of Justice Amir Farooq and Justice Mohsin Akhtar Kayani heard the case.
Earlier, in July 2018, the court sentenced PML-N leader Nawaz Sharif for a 11 years. Besides, the court also slapped £8 million fine (Rs1.3 billion) in the Avenfield properties case. In the case, the court sentence Maryam eight years in jail with a £2 million fine.
The Avenfield properties reference was one of three filed by the National Accountability Bureau (NAB) filed the Avenfield properties against the ousted PM.
What do you think of the story? Please, let us know in the comments section below!