Today, not only the hailstorm in Karachi is making headlines but Maryam Nawaz and the New York Times as well. Well, the media outlet has rattled social media on a huge scale – it published an article centered on the most powerful women of 2017.
Normally, one would expect the likes of Angela Merkel to make that list; but isn't that approach too political dampened and controversial? Of course, you must consider how would the New York Times reflect upon such a move, when addressed by their audience?
With that being said, New York Times enlists the daughter of disqualified and former Prime Minister of Pakistan, Maryam Nawaz Sharif, as one of the most powerful women of 2017. In this moment, Maryam Nawaz addresses the nation in gratitude for the honor and once again, draws an outline of her integrity as a politician with the following speech:
I woke up this morning and came across the news of the New York Times acknowledging me as one of the most powerful women on earth. I scrambled towards thinking how could I have made the list? No surprise why they mentioned me and I thank them for such an honor.

I thank New York Times for considering me one of the most powerful women of 2017 because I resoundingly stay corrupt. I thank them because they honor my audacity to claim that load-shedding will end in 2018, despite me and my family in charge, making thousands of such promises since 2013.
I thank them for they acknowledge the fact that despite having corruption charges, despite being proven guilty by the Supreme Court, despite having lost the support of many people, I continue to speak absolute gibberish in my family's support and advocate our so-called sincerity to the people of Pakistan. How can I forget the time when I retweeted Abid Sher Ali's ridiculous, out-of-place, absurd tweet where he rejected the decision of Panama, calling it "Naa Manzoor"? I reckon that is all that they saw and made a quick decision! I thank New York Times for shortlisting me out of all the more capable and accountable women of Pakistan.

Qoum Ki Beti Maryam, aaj aapkay saamnay hai with an incredible honor in my hand. I cannot begin to comprehend how I feel at this moment. Throughout the bygone months, my countrymen turned their backs on me. They pulled the plug on their support. They dragged my father out of the office. The menacing act of injustice has taken a toll on my family and in this moment, we breathe a sigh of relief after what just happened. All credit to the New York Times.
Shame on all those who gave up on us. How can a mere scandal and leaked documents rid apart my family's accountability? Now, it took the New York Times to grow some sense into the ignorant people who were ardent proponents of the disqualification of my father.

NYT had their eyes on me all the way through the Panama gate. Although, I pestered over mentioning SSP Arsala instead of me because when the whole nation was clouded by the popular conflict, she asserted her true integrity and came out as a real woman, as a real Pakistan to salute me outside parliament on that afternoon. For this only, I think SSP Arsala should be on that list instead of me.
But how could I win the argument when facts bearing my accountability were sitting on the table? They left me speechless. They opened the series of a Twitter trend under the hashtag – #MaryamLightChaliGai – that Pakistanis used to tell stories of enjoying ample supply of electricity. They wrote to me on Twitter; offering their gratitude. Even Meera took the stage. Meera, of all the people on earth.

Somewhere, I secretly believe my father, the Sadiq and Amin Prime Minister of Pakistan, who gave away his peace and sleep for the service of this country, had a role to play in this regard.

Only my father holds such a merit of truth, so I sense the NYT took my father onboard to help in this. Because it's upright in principle, it honors all the powerful women and beholds the truth that millions are blinded to, I profoundly believe my father supervised here.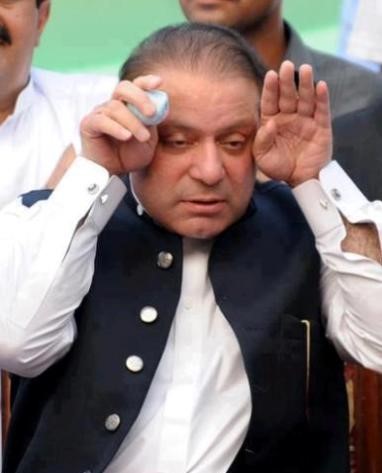 The NYT informed me about my name on this list but I had to make one primary amendment. If they mark my name in honor, they had to mark it in Calibri. This one font has been better than people of my nation because it held my hand through thick and thin and indirectly, it was only due to the power of Calibri and my ownership of this font that I see this day today. Despite all the controversies entangling me like a tidal wave, Calibri pulled me out.

Hopefully, Supreme Court of Pakistan will notice and take due action at this moment only.
Note: This is a satire piece. It has no relevance to truth and is meant to be taken in a humorous way, ONLY.