Pakistan Muslim League-Nawaz (PML-N) Vice President Maryam Nawaz Sharif on Saturday shared a two-year-old video of a 50-over World Cup encounter in 2019 between Pakistan and Afghanistan at Leeds. However, soon after coming under fire, the politician deleted the video.
The video showed a plane flying over the Headingley cricket ground in Leeds, England with a banner reading 'Justice for Balochistan'. It was reported at that time that the campaign was launched by India to malign Pakistan on the international stage.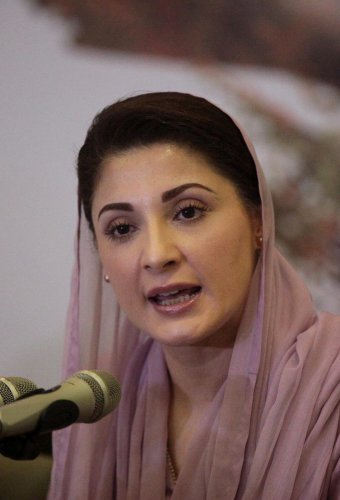 The video came a day after Pakistan downed Afghanistan in a thrilling T20 World Cup encounter. It sparked a debate on social media whether the daughter of former prime minister Nawaz Sharif thinks the incident happened during Friday's match.
While the PML-N leader deleted her tweet later, by that time many had shared the tweet on their timelines.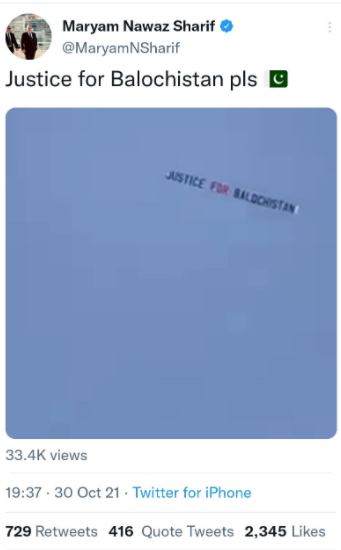 PTI leaders were quick to draw attention to the blunder committed by the PMLN leader. Federal Information Minister Fawad Chaudhry called her out for "lack of knowledge" and "self-centeredness". He interpreted it as Maryam's attempt to draw media attention.
Minister of State for Information & Broadcasting Farrukh Habib said it was Indian propaganda whose video is being tweeted. "There is no doubt that Modi has appointed Maryam Safdar as in-charge of anti-Pakistan propaganda," he added. "I have never seen a tweet [from Maryam] tagged to Modi on justice for Kashmiris."
Many other PTI leaders, too, criticized Maryam, who also came under fire from several social media users for "advancing the Indian narrative."
Twittersphere schools Maryam Nawaz
"This message was displayed from another perspective which was not correct. The reference you shared is not in this message," tweeted one user.
Some pointed out that the PML-N leader should have shared the video which had the banner stating "India stop genocide & free Kashmir".
After deleting her earlier message, in another Tweet, Maryam said that she deleted it because some known elements were "misconstruing" her tweet.
"I stand for the rights of all those marginalized in my beloved Pakistan and will continue to do so. Balochistan is close to my heart. No amount of propaganda can change that," she wrote.
However, she ended the tweet with the same message as in the earlier tweet "Justice for Balochistan".
Already infamous for her bloopers including "Qatari letter" and "Calibri font", the PML-N leader drew flak of the Twitterati who termed her accusations as 'anti-Pakistan' and tantamount to fanning the Indian narrative.
What do you think of this story? Let us know in the comments section below.