A staggering controversy is currently going on in Pakistan. The controversy revolves around the vice president of the Muslim League-Nawaz (PML-N), Maryam Nawaz. There is also a trend #MaryamExposedAgain on Twitter after DG ISPR confirmed that a leader of PML-N met the Army Chief.
Earlier, Railways Minister Sheikh Rashid told media about the meeting. It was between opposition leaders and the army chief. However, Maryam denied and said it was about Gilgit-Baltistan and she did not know about any other meeting.
On Wednesday, after coming back from the Islamabad High Court (IHC) a guard of Maryam accidentally punched her. However, after the incident, she talked to the media person.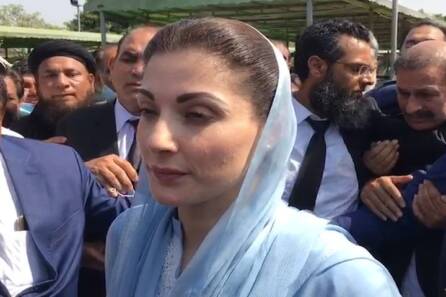 She said, "I don't know about dinner, maybe it was not a dinner [but] I heard about the meeting. From what I understand it was called to discuss Gilgit-Baltistan which is a political issue, an issue of the people's representatives, for them to solve and deliberate upon."
"These decisions should be made in parliament, not in GHQ," she added.
A reported asked her whether form Ex-Prime Minister Nawaz Sharif was aware of the meeting, she said: "I don't know whether he was aware of [the meeting] or if he learned of it later."
"But the political leadership should not be called nor should it go to discuss such issues. Whoever wishes to discuss these issues should come to the parliament."
Sheikh Rashid in action!
Soon after Maryam's statement, Rashid uploaded a video message on his official Twitter account. He said there was not one but two meetings. He said Shehbaz Sharif and PPP's Bilawal Bhutto Zardari both attended the meeting, and he can provide the proof.
"I want to tell the entire nation that this meeting was held [to discuss] Gilgit Baltistan's elections and granting it the status of a province provisionally," Rashid said. "But during [the meeting] all political matters were discussed in three and a half hours. And the meeting held earlier lasted five and a half hours. The previous meeting was a dinner and the recent was a high-tea."
"If according to Maryam Nawaz, Nawaz Sharif is unaware of that, I am not responsible," Rashid continued.
DG ISPR confirms the meeting
While speaking Arshad Sharif on ARY News, DG ISPR confirmed that the PML-N leader and Army Chief met. He said the leader of PML-N and former Sindh governor Mohammad Zubair had requested the meetings.
He said, "In both meetings, he (Zubair) talked about Mian Nawaz Sharif sahib and Maryam Nawaz sahiba."
"During these meetings, whatever was discussed, the army chief made it clear to him (Zubair) that whatever their (Nawaz and Maryam's) legal issues are will be solved in Pakistan's courts, while the political issues will be solved in the parliament," added DG ISPR.
He said the PML-N was asked to "keep the army away from these matters."
Here's how people on social media reacting to Maryam's lie.
'PML-N seeking a way out from the accountability process'
Well Well…
An honest advice!
Recently, Nawaz was urging an end to so-called military 'interference' in politics. Now, his party is trying to seek help from the army chief.
What should we call it? Is the opposition trying to fool the nation? Meanwhile, the government has already said that the opposition was playing tactics to seek NRO.
What do you think of the story? Please, let us know in the comments section below!