Maryam Nawaz revealed on Sunday that she had received the news of the death of former prime minister Nawaz Sharif's mother "two hours late due to suspension of phone services", accusing the incumbent PTI-led government of being inconsiderate.
PML-N leader Nawaz Sharif and party president Shehbaz Sharif's nonagenarian mother, Begum Shamim Akhtar, passed away in London on Sunday. According to PML-N leaders, Begum Shamim was almost 94 years old.
Moreover, she was seriously ill for the past several months. However, she wanted to be in London for the former premier's cardiac intervention. They added her condition had become critical since last week.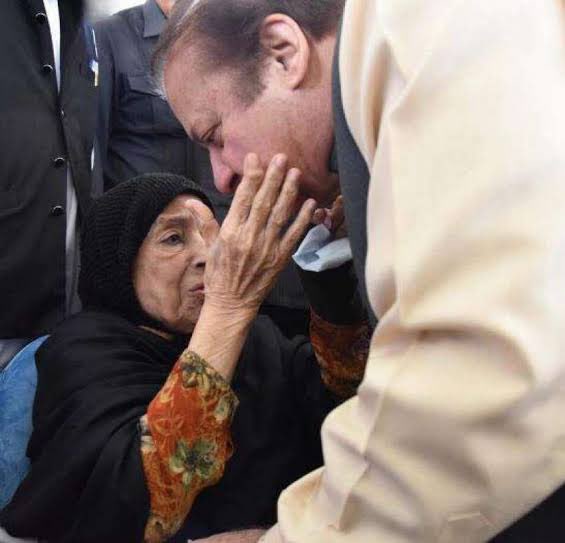 She had left for London in February despite being unwell to be with Sharif, who is there for medical treatment since late last year. Reportedly, her body will be flown to Lahore from London and she will be buried in the Sharif family's ancestral graveyard in the city.
According to party sources, Sharif and his sons are unlikely to come to Pakistan to attend her funeral prayers, which will be arranged in Lahore by the PML-N leader's daughter Maryam Nawaz and husband Captain (retd) Mohammad Safdar.
The news of her grandmother's demise reached Maryam, who is also the PML-N vice president, while she was present at the 11-party opposition alliance Pakistan Democratic Movement's (PDM) rally in Peshawar.
She left the venue after apologizing to the crowd for being unable to address the rally. In addition to this, she requested party workers and supporters to pray for the departed soul and for the early recovery of her ailing father.
Maryam blames govt officials for informing her late
Later, in a tweet, Maryam lamented the government's attitude following the demise of her grandmother.
"No government official was humane enough to inform me of my grandmother's death. I have requested Mian Sahib [Nawaz Sharif] not to come back (to Pakistan) at all. These are tyrants and vengeful blind people from whom no kind of humanity is expected."
Nawaz's daughter lambasted the incumbent PTI-led government for being inconsiderate. More so, she emphasized how no government official was humane enough to inform me of my grandmother's death.
However, is it really the govt's responsibility to inform her of her grandmother's death?
Twittersphere's reaction to Maryam's insensible tweet
"It was the job of your parents, your relatives, and the people of your party to inform you of your grandmother's death. It was your grandmother was yours and not the government's."
"Don't bring up politics on this occasion… this is also humanity."
"Bibi, now you are playing politics over her death, and may Allah guide you."
Meanwhile, Federal Minister for Science and Technology Fawad Chaudhry asked Maryam that why she had to say such an unnecessary lie?
Information and Broadcasting Minister Senator Shibli Faraz lashed out at her, stressing that the government cannot be held responsible if she was not timely informed of her grandmother's death.
What do you think of this story? Let us know in the comments section below.