Maryam Aurangzeb, the Minister of Information and Broadcasting has been pretty relevant lately. Her job was to show up before the media and talk about her party leader Nawaz Sharif in all good terms. Even when the whole wide world turned their backs on the Sharif family, Maryam Aurangzeb remained the only person having all the support in the world for them.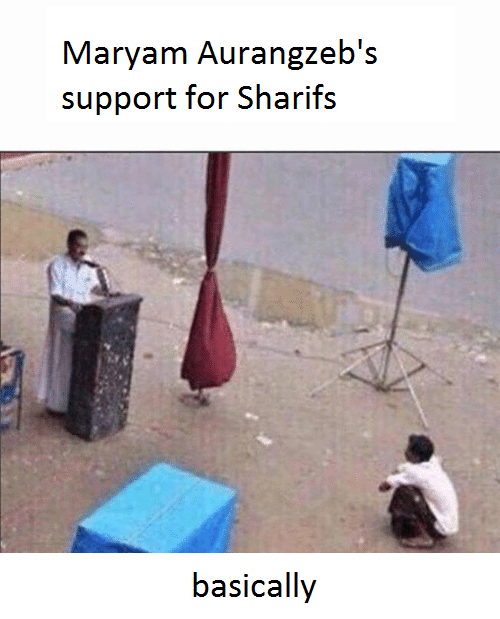 Panama leaks fiasco finally came to an end today. After months and months of updates, toil, and struggles, the verdict came out this morning. Supreme Court of Pakistan disqualifies Nawaz Sharif as Prime Minister. The decision sprung celebrations all across Pakistan as the entire nation embraced the long awaited verdict by the top court.
All judges presiding over the case ruled him out in a clean 5-0 swipe. Meanwhile Maryam Aurangzeb, who simply left no reason at all to entertain us with her ridiculous remarks. As she showed up on the media, we knew we were in for something that would make her the butt of all jokes.
Nawaz Sharif will become Prime Minister for the fourth time. – Maryam Aurangzeb
LET THAT SINK IN…
Pakistanis just couldn't hold back – enjoy!
If you are having a bad work day, think about Maryam Aurangzeb ?!

— Zarlasht Faisal (@ZarlashtFaisal) July 28, 2017
Maryam Aurangzeb is like that one person in the squad who keeps on defending shit after the whole squad fucks up.

— N. (@naveedsidique) July 28, 2017
Maryam Aurangzeb has DISQUALIFIED Supreme Court's decision and said will come back 4th time.

— Khushal (@Khushal) July 28, 2017
I just want what Maryam Aurangzeb is high on.

— Muhammad Ahsan (@_ThisIsAhsan) July 28, 2017
Maryam Aurangzeb began crying ? She could not do press conference. Ministry ko saal hi to huwa tha#PanamaVerdict

— Saeed Gorshani (@Saeed_Gorshani) July 28, 2017
Maryam Aurangzeb saying NS will be elected for the fourth time.

You've all been smoking the wrong stuff. She's on the real thing.

— Mehrosh Aslam (@mehrosh_a) July 28, 2017
Look at Maryam Aurangzeb's face. So poor. So weak. So full of loss. So full of corruption.

— Laraib Mehtab (@laraibmufc) July 28, 2017
NS disquailfied for life time..

maryam aurangzeb: NS 4th martaba PM bnaen gy.. ?

is she high or what??? ??

— حارث (@haris_altaaf) July 28, 2017
We all need a friend like Maryam Aurangzeb

— عادل (@aurAdil) July 28, 2017
Maryam Aurangzeb is actually telling people that court failed to prove that Nawaz Sharf is corrupt. Seriously? ?

— A girl has no name. (@chaosinthecalm_) July 28, 2017
https://twitter.com/ShanzayKhann/status/890841964190605312
https://twitter.com/AD_ChiTown/status/890841235325374464
A moment of silence for Maryam Aurangzeb at the moment. But, damn somebody must at least try to find out what on earth did she smoke before coming out and speaking out those words in media? See Pakistanis, cast your vote responsibly next time. You have an Information Minister who does not even have any idea what this verdict means and how does it go for the ex Prime Minister.
For now, it's time to celebrate the justice delivered by our honorable court and the honorable judges.