A blast in the parking lot of a luxury hotel in the Balochistan capital killed four people and injured 13 others while destroying several vehicles parked there on Wednesday night. Subsequently, security tightened in the city on Thursday after a powerful blast rocked the city.
The explosion occurred at around 10:30 pm, according to reports. Initial investigation revealed explosive material inside a car that detonated, said the police spokesperson. It went off in the parking area of the hotel on Zarghoon Road. Additionally, the spokesperson confirmed 4 deaths and 13 injuries in the blast.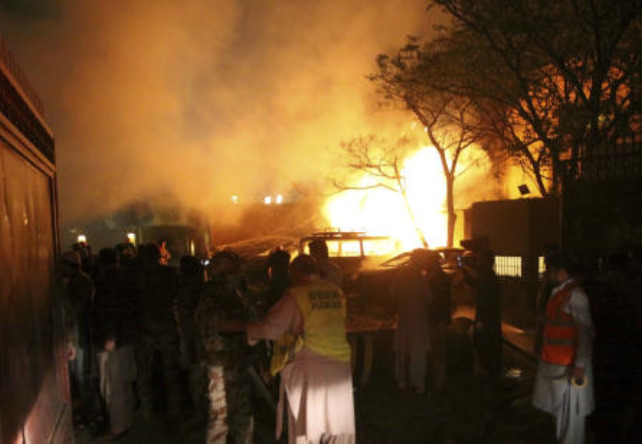 A vehicle exploded in the car park of the luxury Serena hotel, with fire spreading to several other vehicles nearby. Reportedly, four people lost their lives. This includes two security guards, and a dozen more were said to have been injured. Also, two assistant commissioners are reported to be among the injured. In addition to this, seven of the injured were taken to Civil hospital. As of now, one of them reportedly remains in critical condition.
Balochistan Home Minister Mir Ziaullah Langove addressed media reports about the Chinese ambassador being the apparent target of the attack. He said that the ambassador was not present at the hotel when the explosion occurred.
Footage of the blast on social media of the aftermaths shows the fire raging at the site.
Pakistanis mourn the lost lives
Four innocent and precious lives were lost in the Quetta blast. The deceased identified as Shujaat Abbasi (policeman), Asad Ullah (hotel security guard), Shahzaib (shift manager), Aimal Kasi (forest department employee), and Naseebullah.
As news broke of the blast and as casualties emerged, several people took to social media to offer their condolences and express their grief. Meanwhile, Prime Minister Imran Khan condemned the incident. He called it a "cowardly terrorist attack".
"I am deeply saddened by the loss of innocent lives in the condemnable and cowardly terrorist attack in Quetta yesterday. Our nation has made great sacrifices in defeating terrorism and we will not to allow this scourge to rise again. We remain alert to all internal and external threats," he said.
We offer our deepest condolences to the families of the martyrs and pray for speedy recovery of the injured.
Last year, an explosion at a religious school in the northwestern Pakistani city of Peshawar killed at least eight people and wounded more than 130 others. Meanwhile, rather than sharing their condolences, our neighboring country, all Indians, cheered the fatalities in the Peshawar blast.
What do you think of this story? Let us know in the comments section below.