Marriyum Aurangzeb is in hot water once again. Pakistan Muslim League-Nawaz (PML-N) leader is facing severe reaction from the Pakistan Tehreek-e-Insaf (PTI), and rightly so. Marriyum Aurangzeb has been caught red-handed provoking PML-N leader Afzal Khokhar into targeting PM Imran Khan's sister, Aleema Khan.
In a video, Aurangzeb, during Khokhar's speech on the floor of the National Assembly, could be seen telling him to mention Aleema Khan over her alleged corrupt practices.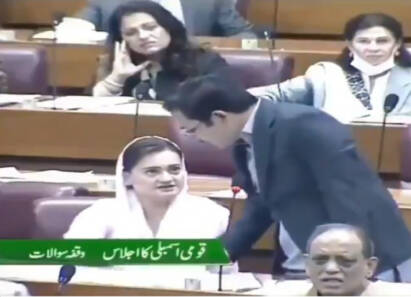 Aurangzeb could also be overheard in the Khokhar's mic saying, "Mention sewing machines of PM's sister."
Khokhar listened to Aurangzeb and in the next moments, he said, "I have not given my sisters sewing machines from the government funds".
PML-N lawmakers cheered his remarks that were truly in bad taste. Meanwhile, social media and PTI criticized Marriyum Aurangzeb directing Afzal Khokhar for targeting PM Imran's sisters who aren't even a part of politics.
Afzal Khokhar moved a privilege motion
In the same session, Khokhar tabled a privilege motion against the razing of his house in Lahore last Sunday. The government, however, defended the operation.
During his speech, Khokhar also talked about the operation to demolish his Lahore residence, the Khokhar Palace. The PML-N leader claimed the administration had stormed his place late at night and destroyed furniture among other things.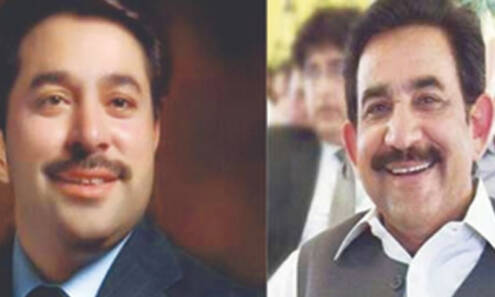 "This type of attitude of Punjab authorities will not be tolerated," he said.
"On one hand, the illegal palatial house of Prime Minister Imran Khan in Banigala has been regularised at a cost of Rs1.2 million while on the other my legitimate house is demolished," Khokhar said in his privilege motion.
"If we are land grabbers, then Imran Khan is Qabza Mafia as well," the PML-M member said. At this point, Aurangzeb intervened and put words in Khokhar's mother against PM's sisters.
Reactions over Marriyum Aurangzeb viral video
PM's focal person on digital media, Dr. Arslan Khalid also shared the video on his Twitter and said, "This is the ridiculous and horrid politics of PML-N."
Special Assistant to Prime Minister of Pakistan on Political Communication Dr. Shahbaz Gill said, "This happens when disgusting people become part of the politics." He made the comment on Twitter in a clear reference to Aurangzeb.
Journalist Adnan Lodhi said, "It has been proved in the courts that Khokhars had grabbed government lands illegally. During its 10 years in Punjab, PML-N never went after this group of land grabbers (Khokhar brothers)."
The Federal Investigation Agency (FIA) had opened a probe against PML-N's Khokhar brothers for their alleged involvement in money laundering and land grabbing, summoning them in 2020.
Pakistanis had flaked Aurangzeb in 2017 when she said that "Nawaz Sharif will become PM again. We hope the PML-N leader got her lesson that the camera catches and saves everything even if one tries to act smart.
What do you think of this story? Let us know in the comments section below.