In one of the tragic most incidents of 2016, 47 people lost their lives in an airplane crash near Havelian, including the renowned scholar Junaid Jamshed. Pakistan International Airlines flight PK-661 crashed on its way to Islamabad from Chitral. There were no survivors.
However, it seems that some people in the country are opportunists who are waiting to cash in on any such incident with an emotional oomph. It had not even been 5 hours, let alone 24 hrs for that matter, that some agencies thought it would be a good time to milk Junaid Jamshed's demise.
It seems that insensitivity is becoming the queen of marketing.
A couple of incidents where social media and interpersonal advertisement by some brands came off a little too blunt and insensitive when they decided to cash in on today's incident.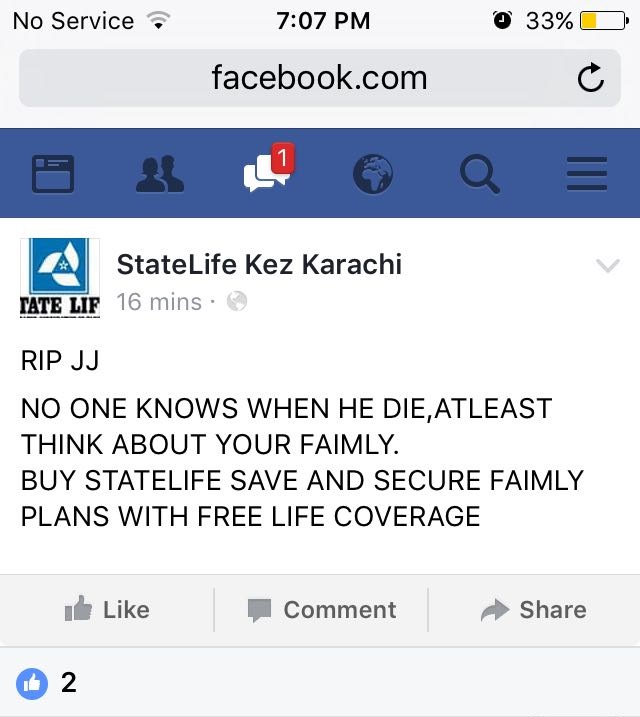 State Life Kez Karachi paid their condolences by writing "RIP JJ" and went on to sell their insurance to secure your family's future by buying their policy. A brand should have the common courtesy of at least waiting a while before they get to gain from a national tragedy where 48 people lost their lives.
In another case, advertisement through text messages are being sent out by JazzTunes
JazzTunes thinks it's absolutely appropriate to sell his naats/ humds to their customers, right after his death, again, striking at the emotional nerve of the common man, just to gain from the tragedy.
These two brands just go on to prove that the means and mediums of marketing have lost their objectivity and ethics. Just as the media did before, it seems that advertisement and marketing are looking for appropriate means to follow a similar path. A condolence differs from an advertisement and should be kept distant from national tragedies.