There is no doubt that Maria.B., in its true sense, is a leading Pakistani designer label turned mega retail brand that has a plethora of collections that reflect the designer's love for feminine elegance.
A pioneer in the industry, Maria.B. continues to capture its audience with a shopping experience that is luxurious in every way. On the other hand, you only have to turn on the television or check your socials to see that Ayeza Khan is by far the biggest female star today.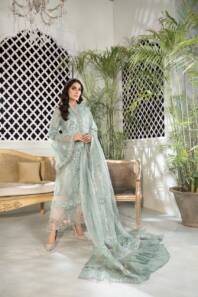 From serious dramas like 'Mere Pass Tum Ho to more light-hearted ones like 'Chupke Chupke,' she has captured the nation's imagination unlike any other star today. And everyone gets to witness the sheer synchrony of this iconic blend with Maria.B.'s latest unstitched Mbroidered Heritage Edition'21.
Ayeza Khan & Maria.B.
Ayeza Khan and Maria. B. have collaborated once again to enthral Pakistani fashionistas. And we say collaborating because the relationship between the mega-brand and the superstar is more than just that of a designer and a muse.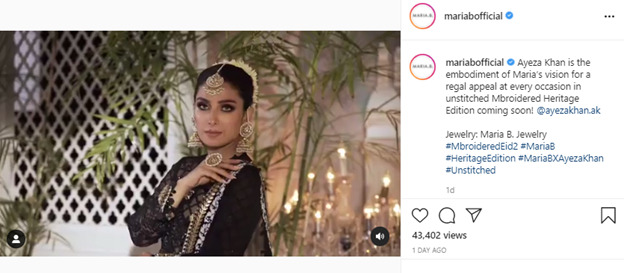 This friendship that transcends borders started with working together in Turkey for Pakistan's biggest lawn campaign of the season with Turkish drama star Gülsim Ali of Ertrugul.
Today, Ayeza Khan is the embodiment of Maria's vision for a timeless appeal at every occasion in their coveted unstitched Mbroidered Heritage Edition'21 launching just in time for Eid.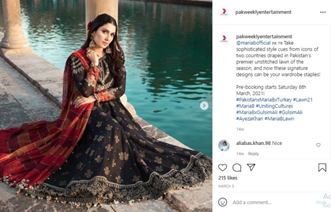 The magic of exquisite craftsmanship unfolds flawlessly in their latest campaign together with Ayeza as the face of Maria B's Mbroidered – Heritage Edition geared towards Eid ul Azha.
A sneak peeks into the collection lets us discover the remarkable elegance of tasteful dense embroideries bursting with vibrant brilliance and traditional silhouettes. These elements are truly represented and enriched by Ayeza's statuesque beauty.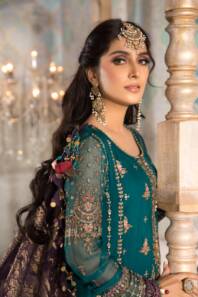 However, this is not the first time the two powerhouses have worked together. Way back in 2016, Ayeza Khan along with her husband Taimoor Khan and their baby daughter Hoorain featured in Maria B's Eid Collection. The beautiful young family perfectly encapsulated the festive spirit of Eid dressed in Maria B.
Maria B. 2021 Collection
More recently Ayeza featured as one of the muses for Maria B's Lawn 2021 Collection. This was truly a unique campaign as it was a collaboration not just between Ayeza and Maria, but also included Turkish star Gulsim Ali, of 'Ertugrul' fame.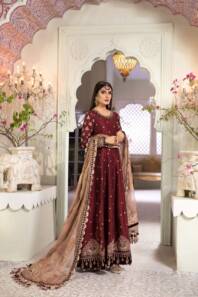 This captivated the imagination of the nation as the brand teased us with videos from Istanbul, and as all things Turkish were (and are still) en vogue in Pakistan. It was finally revealed that that the 2021 Lawn Collection would feature not one but two leading ladies – Ayeza Khan and Gulsim Ali.
The collection titled 'Uniting Cultures' made Maria B the first-ever fashion and lifestyle brand that showcased the cultural bonds between Pakistan and Turkey. And instead of just going with a Turkish muse in the case of many other brands, including Pakistan's finest – Ayeza Khan – made it even more appealing to the Pakistani consumer.
This combo of Ayeza and Maria just seems to work every time. We can't wait to see what the dynamic duo has planned next. For now, we just want to see more of the Mbroidered Heritage Edition collection!
What do you think of the story? Tell us in the comments section below.