With an exploration of Turkish landscapes and the confluence of local and Turkish fashion taking over the internet in the past with her previous collection, Maria B. has returned once again with a concept that perfectly interweaves Pakistani fashion with a Turkish milieu as she introduces Anatolia – Destination Wedding.
Playing to the idea of the winter season being the ideal time for weddings and nuptials taking place all over the country, Maria B.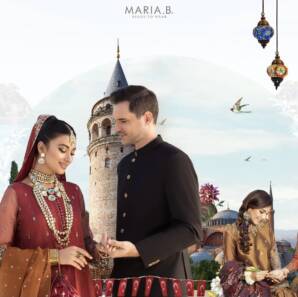 As per her ingenious foresight takes her esteemed clientele on a trip of their lifetime, with the concept of bringing forward a destination wedding in the picturesque Anatolian scenery in Turkey.
Instagram handle to check it out.
Paired with visuals that have already taken over the internet by storm, the collection features the perfect balance of joyous moments, festive allure, and of course, ensembles that highlight the traditional silhouettes and cuts associated with the wedding season.
In a true sense, it brings to the client a wide range of ready-to-wear choices that all befit the bridal trousseau, and even the ones attending the grand events.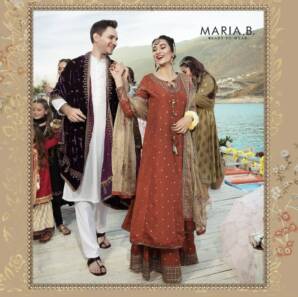 Adding to the aura of destination weddings, Maria B. also sets the tone for what to expect this winter season when it comes to festive fashion.
Playing with a range of deep reds, purples, monochromes, and wintery pastels – in luxe velvets, silks, cotton-nets, and pure cotton, the collection completely suggests a perfect palette for those who know how to play subtle and classy, both.
The collection you need to check out.
It is rare where such a perfect fusion of Pakistani craft can be mixed ingeniously with the Turkish ethos, but Maria B. does it again with utmost ease she creates active ties between the fraternal nations.
In the same place where the dholak and the marigolds find their place, we also see a nod to the Turkish culture and their picturesque lands as well that prove the ties between the two nations know no bounds.
There's nobility, classic ideals, and traditionalism that come into play, and that for us, means regality of the highest order.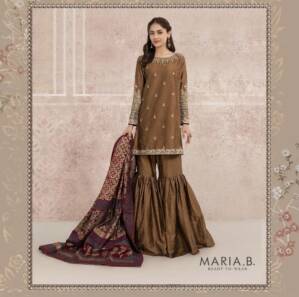 Similarly, adding to this regality of the whole theme, each of the destination wedding days is also divided into traditional festivities that take place at a Pakistani wedding, such as a Mehendi, a nikkah, a Shaadi, and so forth.
Not only do the befitting ensembles shine bright in the traditional aesthetic sense, but it also brings the intricacies of Pakistani embroideries, embellishments, and adornments to the Turkish land – a feat which every citizen can be proud of.
We have said it before, and we can proudly say it again – Maria B. has perfectly carved a niche of Pakistani fashion within Turkey and that in itself proves the versatility of the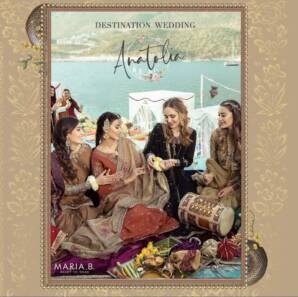 designer's fashion sensibilities and is a pure ode to the traditional craft of our land which even in a festive, wedding-based scenario, still is wearable and fashionable in every way.
This is how a destination wedding should be, with a clean and crisp aesthetic – and we can proudly say Maria B. has nailed it once again!
One can find everything they desire from this ready-to-wear collection, be it for a glorious nikkah ceremony or a vibrant Mehendi day, and that is just how a wedding trousseau should be. The message is simple – wear understated, classier ensembles to feel and look your best – and we're here for it!
What do you think of the story? Tell us in the comments section below.