The streets are lit up, flags are up as we celebrate Pakistan's 73rd Independence Day! Looking back at where we were and where we are now, though we would check out what various brands have done and are currently doing for this year's Independence Day. One brand that has come in the limelight is Maria B Let's take a look back into what they have done for Independence day.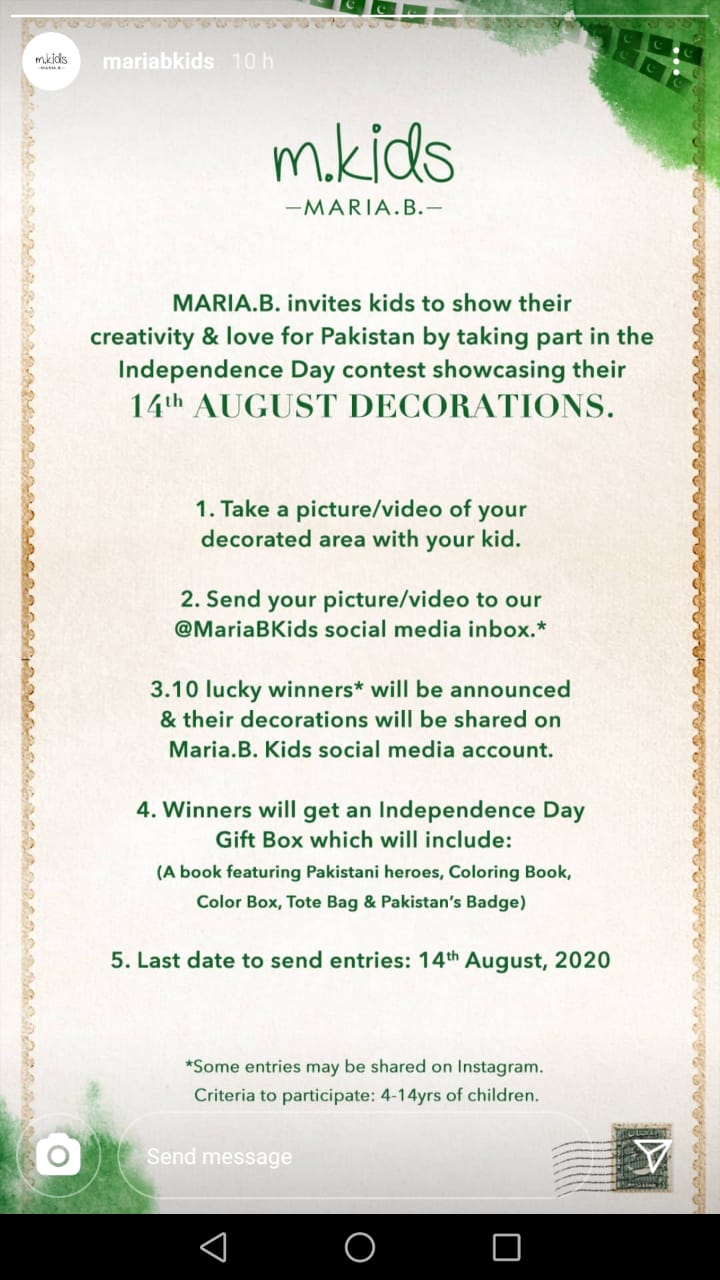 In 2018, Maria B. initiated Independence Day campaign #HAMESHAPAKISTAN highlighting several Pakistani women, who are making the country proud in their respective fields of work. The campaign's highlighted the song "Pakistan Mera Junoon" which was sung by a rising young artist, Bilal Haider.
The anthem salutes all the women of Pakistan, past and present, who stood unbowed against the tide and always did their best in their respective fields of excellence. Working hard to contribute to the stability and development of the nation, the list of the women included; Rameesha Shahid (Kick Boxer & Pakistan's first kickboxing coach), Rafia Qaseem Baig (Pakistan's first female bomb disposal officer), Fatima Hassan (Graphic designer & UN Women Inspiration), Sumaira Warisv(First Female Tabla player), Fiza Farhan ( Global Advisor on women empowerment), Neha Mankani (Trained midwife), Sana Mahmud (Captain Female National Basketball Team)  & Kiran Khan (Pakistan's First international Gold Medalist/Olympian Swimmer)
They didn't stop there – in 2019 MARIA.B dedicated the campaign to children – the future of our country. The campaign featured little, patriotic children in a song 'Ye Jahan Rang De Chalo'. The song was brilliantly composed and produced by Abbas Ali Khan and was beautifully sung by the 8-year-old child prodigy, Hadiya Hashmi who made her debut in Nescafé Basement by singing "Bol Hu" ad has received high acclaims not only within Pakistan but also from Sonu Nigam.
Apart from that, in 2019 Maria.B. Cares also partnered with Parks & Horticulture Authority, the Lahore Commissioner's Office, Lahore Conservation Society and Afforestation Pakistan planted 2000 trees to celebrate Independence Day. We planted native species only, including Jamun, Keekar, Amrood, Falsa, Sohanjana and Kachnaar. Native species such as these provide shade and fruit, a shelter for many bird and insect species, benefitting the entire ecological balance. Maria. B. and Fatima. B. both led the drive!
This year, the brand has decided to take another step to encourage the youth to tell how much they love our homeland. This Independence Day Maria B aims to revive the memory of celebrating 14th August by decorating their homes, streets, and nation by inviting kids to show their true taste of patriotism by taking part in the contest of 14th August Decorations.
Not only this, but Maria B.'s Independence campaign 2020 also includes a pledge of a rigorous plantation drive. Maria B. plans to plant 5000 native trees for a better and greener Pakistan.
The competition is quite simple and children from 4 to 14 years can participate by
– Take a picture/video of your decorated area with you kid
– Send your picture/video on our Maria.B kids social media inbox.
– Few entries will be posted on our social media account.
– Out of all, 10 lucky winners will win a gift package from Maria.B Kids.
[Image of competition]