It seems that even after winning the General Elections in 2018, PTI is still in trouble because of their party members. Senior Leader of Pakistan Tehreek-e-Insaf Ali Zaidi confirmed on Thursday that Dr. Imran Shah's membership has been suspended for a month after he was caught on camera thrashing a senior citizen. Although Imran Shah defended himself in a video message and then went to the house of the citizen for an apology, PTI issued him show cause notice after the social media outcry and then suspended him.
Another video of PTI's leader, Mansoor Ahmed Sheikh went viral yesterday who was allegedly abusing and beating the staff members of a showroom. According to a social media user, Mansoor Ahmed along with his cousin SSP Malir Munir Sheikh tortured abused and kidnapped the staff members, about 7million PKR, had been stolen from the showroom as well. See the video here.
On another note, PTI's Mansoor Ahmad Sheikh vandalizes Honda Showroom with the help of his cousin SSP Malir Munir Sheikh,tortured and abused the staff memebers.
Reports suggest that an amount of PKR 7 Million was also stolen and 5 employees were kidnapped.#TabdeeliStarts pic.twitter.com/WXNYmb4INh

— A K B A R (@AkbarAH) August 15, 2018
The social media shared another video of inside the showroom.
Incase if you want to check what happened inside the showroom. pic.twitter.com/2MUClVRWaw

— A K B A R (@AkbarAH) August 15, 2018
Meanwhile, PTI supporter Awab Alvi defended Mansoor Sheikh in his tweet along with the video when actually a scuffle started between the two parties. It can be seen in the video that Mansoor's daughter rescued his father as the staff tore his clothes and slapped him.
Another video making rounds against PTI – easy to spin one side of the story based on propaganda

Do look at how the Councillor was pacifying the issue – the OWNER of the showroom attacked the OTHER PERSON

Don't fall for propagnada merely because PTI is the viral term thez days pic.twitter.com/FXisKAY8AU

— Awab Alvi (@DrAwab) August 16, 2018
After that, SSP Malir Munir Sheikh came in front and shared the complete details of the incident in a Facebook post.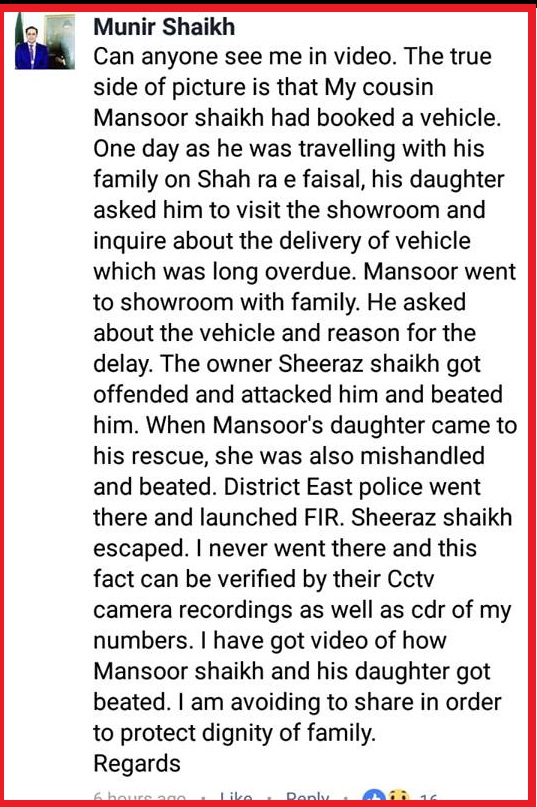 Mansoor Ahmed Sheikh was interviewed by a local news channel in which he told that he went to the showroom for enquiring about a car he had paid for (the possession of which had not been transferred to him on time). Mansoor told that he was attacked by the staff and guards of the showroom. His shirt was torn apart during a fight and when his children who had come with him hoping to see the new car their father had bought were also harassed. The police, taking into consideration all those evidence, arrested the offending employees of the showroom and registered his FIR.
See his interview here.
People on social media who are supporting Mansoor giving the reason that why would anyone, who wanted to get into a fight at the showroom, take his young children with him? While others are claiming that Mansoor wanted to take advantage of PTI seat.
Mansoor is the candidate of PTI from PS-104 constituency, he is the second member of PTI who embroiled in a tussle after Imran Shah. Let's hope that police would investigate impartially and show us the clear picture of the whole incident.