What a performance by the man of his words, people criticized him that he's done and finished. But he just started and no one can stop him from scoring goals.
Cristiano Ronaldo has made history last night at Old Trafford against Tottenham Hotspur and brought happiness among the United fans.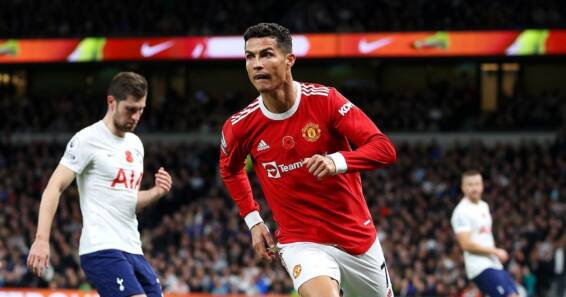 The match was outstanding, nail-biting, but Ronaldo found the way to give his side the lead and earn points for the fourth position in the league.
It was a big comeback after the previous matches especially Manchester Derby where City defeated United with the score of 4-1.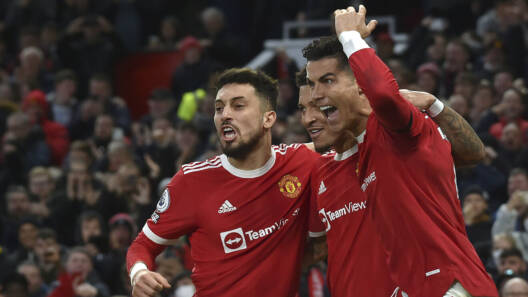 Manchester United was dominant from the beginning and charged up to press them with the attack. The way they were playing looked like, they were out there to win and conquer.
Manchester United defeated Tottenham Hotspur – Ronaldo the main man
No doubt, the whole team played brilliantly but there's only one man who grabbed the attention and made everyone go crazy. In the 12th minute, Ronaldo with the clear shot scored an outstanding goal that made fans go wild.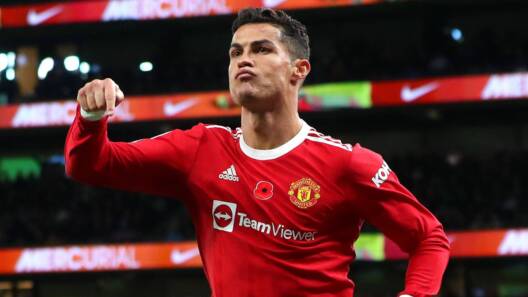 It was the moment, which put some great pressure on Conte's side and left them scattered. In the 35th minute, visitors won the penalty and Harry Kane hit the sweet spot. But Cristiano Ronaldo didn't let them celebrate for too long and in the 38th minute with a great assist by Jadon Sancho Ronaldo scored the second goal for the team.
In the second half, Tottenham tried every possible thing to score but the defense was legit strong until Harry Maguire the special element of the team scored an own goal for Tottenham Hotspur in the 72nd minute.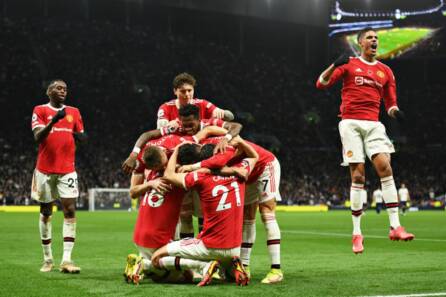 In the 81st minute, Manchester United got the corner and Ronaldo with the flying header completed his second hat trick since he joined the red devils.
It was a chaos of celebration and people have gone wild with excitement. Ronaldo has become the official goal GOAT with a total of 807 goals which makes him the all-time top goal scorer in the world.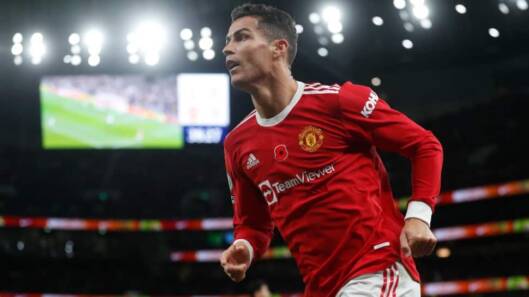 The night was all about Cristiano Ronaldo, he legit shut everyone's mouth who criticized him and spread negative words against him. He achieved a lot of milestones this year, he also becomes the first person to reach 400 million Instagram followers.
Ralf Rangnick hails Cristiano Ronaldo
Manchester United interim boss Ralf Rangnick hails the star player Cristiano Ronaldo for his outstanding performance. He said, 'Maybe he should go to Portugal every week!'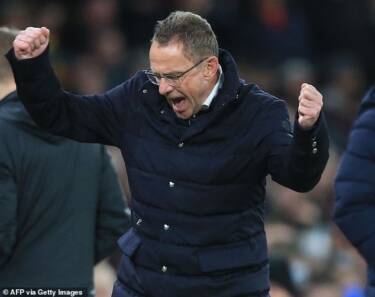 'We were just joking and maybe it makes sense to send him to Portugal for three days, then have him not training for two days, then have him back training on Thursday, if that's the way he performs. Maybe we'll have to do that for the rest of the season.
'He was on a similar level in training on Thursday by the way, which is why I decided after that training session to play him from the start.
'He made the difference for sure, but not only for the three goals. That was the best performance from him, at least since I arrived here, on and off the ball.'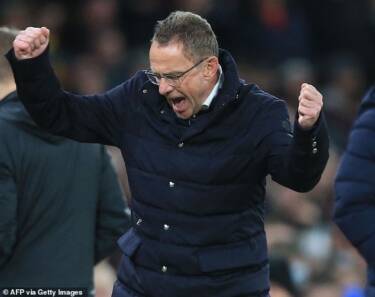 On managing a player like Cristiano Ronaldo Ralf said, "Yeah it is challenging. It's a challenge with a player like him.
But he showed today that he's still got the quality to play for a club like Manchester United. If we want to be successful at the end of the season, we have to do it together.
'He showed that he is physically able to do that, but we also have to admit he has not always been like that the past couple of weeks and months."
'He can get people on their feet' – Rangnick Ralf
Rangnick also agreed with Conte's words, "He was good in training on Thursday and that is why I decided to start him. Fantastic performance by him but also by the rest of the team.
"He can do it [get 70,000 people off their feet], but again he can also do it only with the team. A fantastic performance. It was not just the three goals today it was also he was part of the team when they had the ball.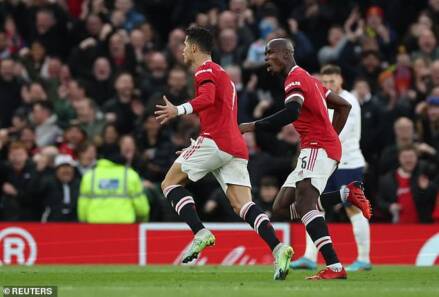 "It was probably our best performance bearing in mind the quality of the opponents. It was necessary, we had to win the game and it will give us a boost for our next game."
Paul Pogba paid tribute to his teammate who officially became the leading scorer in FIFA's history with 807 goals, although the exact totals of some of his rivals are a little vague.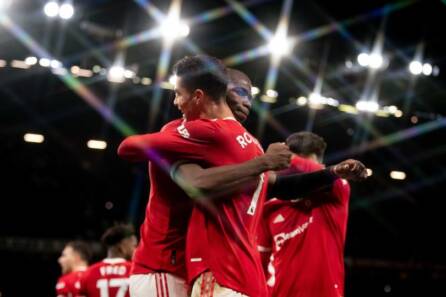 'Ronaldo was brilliant,' said Pogba. 'Everybody knows Cristiano – there's no need to talk about him. That's what he does. He didn't play in the last game, but he comes back and scores three goals.
'He has never been a problem. You have the best striker in history in our team, he cannot be a problem. Today the performance of him and all the team was very brilliant.'
'Ronaldo was the difference' – Antonio Conte
After the defeat, Tottenham Hotspur boss Antonio Conte admitted Ronaldo was the difference between the two teams. "You are talking about a player who is always decisive and has been in his career," Conte said of Ronaldo to BBC Sport. "Tonight he showed what type of player he is.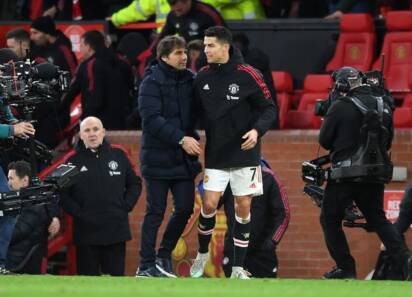 "Without Cristiano Ronaldo for Manchester United, it would have been difficult not just to win but also to draw the game."
And in his post-match interview with Sky Sports, the Italian stated: "Without Cristiano Ronaldo, for United, it wouldn't have been a good night."
"It's difficult to explain this loss. I think we didn't deserve to lose, but at the same time, we need to understand how we can improve. We had a good game, but we have to show more experience to manage certain situations.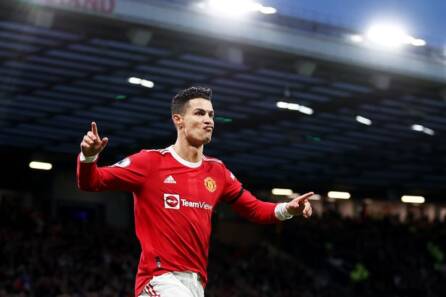 "There are many parts in a game and sometimes you need to understand when to push, to go strong, to increase the intensity, or when to be calm and not hurry. In that aspect, we have a lot of space for improvement.
"On the pitch, we've had a great improvement. You can't buy experience. You also improve your experience after this type of game. We have many young players on the team and hopefully, after this game, they can learn.
"We were at 1-1, then after one or two minutes, they scored the second goal. We're conceding a lot from set-pieces in this period. We know we need to improve if we want to reach the level we need to be competitive for the top places."
Now everyone's eyes are stuck on the second leg between Manchester United and Athletico Madrid. People are expecting to have that Cristiano Ronaldo who previously demolished Simione's side.
What do you think of the story? Tell us in the comments section below.