It has come as a shocking surprise to many that the man seen hosting Dirilis Ertugrul star Engin Altan Düzyatan, on his visit to Lahore is actually a wanted criminal.
Since the arrival of Düzyatan, the blonde-haired host named Mian Kashif Zameer is seen everywhere from the Turkish star's press conference to the snippets of him online.
Zameer is also a famous Pakistani TikToker. He is known for wearing loads of gold in various ornaments in his daily life. He is also the Managing Director (MD) of Chaudhry Groups of Companies.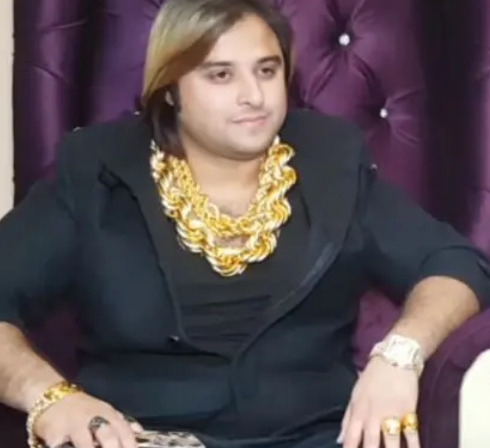 According to Express News, Zameer is booked in around eight criminal cases in the past. Details revealed by Punjab Police said that these cases included fraud, betrayal of trust, car theft, and robbery.
It is important to note here that it was Zameer who had invited Duzyatan to Lahore last week. In an interview, Zameer had shared that he met Duzyatan in Turkey.
Being a huge fan of the Turkish actor, he gifted him a ring which has the Pakistani value of about Rs 60 lac; made from pure diamond, and gold, and is 24 carats. As a return gift, the actor also gave him three rings that he wore in the drama series.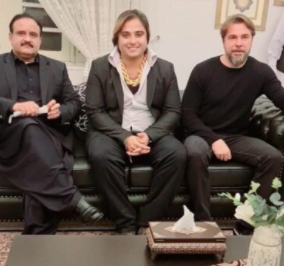 The TikTok star revealed he then invited Duzyatan to Pakistan as the brand ambassador of his company. In order to make him the brand ambassador, Zameer agreed to spend 17 crores over him.
In addition to this, in the meeting the two had in Turkey, the TikToker ensured the actor's security in Pakistan. He also discussed the places he would be staying in Lahore, as well as the people he would be meeting.
When Ertugral was in Pakistan!
Duzyatan arrived in Pakistan on December 10. According to reports, the Dirilis Ertugrul star was here on a short visit. He was seen very happy during his stay in Lahore.
Addressing a press conference in Lahore, the actor revealed that he had signed some new projects in Pakistan. He added he was set to become a brand ambassador for a private textile company.
The Ertugral star shared some good news saying that he was open to working in Pakistan. "Why not!" he exclaimed. "If you have a good story for me, why not."
When asked to share a few words that he learned on his first visit. "I love the Lahori food as well! It's a bit spicy but very tasty," he said, exclaiming "Lahore, Lahore hai! [Lahore is Lahore]," he said.
Talking about the popularity of Dirilis Ertugrul in Pakistan, the Turkish actor said it was a great pleasure for him that PM Imran Khan praised the drama series. "It was big drama series based on Islamic story," he said.
Pakistanis have not only loved the storyline of Dirilis Ertugrul but they are also obsessed with the cast.
Within days of the first telecast, the fan following for the series and its actors surged, especially the Turkish actor Duzyatan. So much so, that Pakistani even found a Pakistani doppelganger of him!
What do you think of this story? Let us know in the comments section below!